It's starting to get really chilly out here any NYC. The crisp fall air is finally here. It was just 40 degrees the other day and I didn't realize it and ran out there with just a tank top and leggings! I got a rude awakening when I went out that door to take Drake to school. Gotta love the surprise weather changes in the fall, where one day it can be nearly 80 degrees and the next it drops down to 40 degrees.
The other day we took the kids pumpkin picking. It's a fall family tradition I like to have with the kids. I want them to look back and remember those days we took them out of the city and enjoyed a day out together as a family picking pumpkins and eating some great food! The kids were more entertained with the hay ride that picking pumpkins to be honest. They must of got on like four times. Donovan especially loved it. Every year I try to make it a tradition that we go and visit the farm. I live for the farm stands to be honest where they sell the pies and apple cider donuts and we can't forget the roasted corn! 🙂 That's the first thing I purchase. Love having all the freshly baked items too.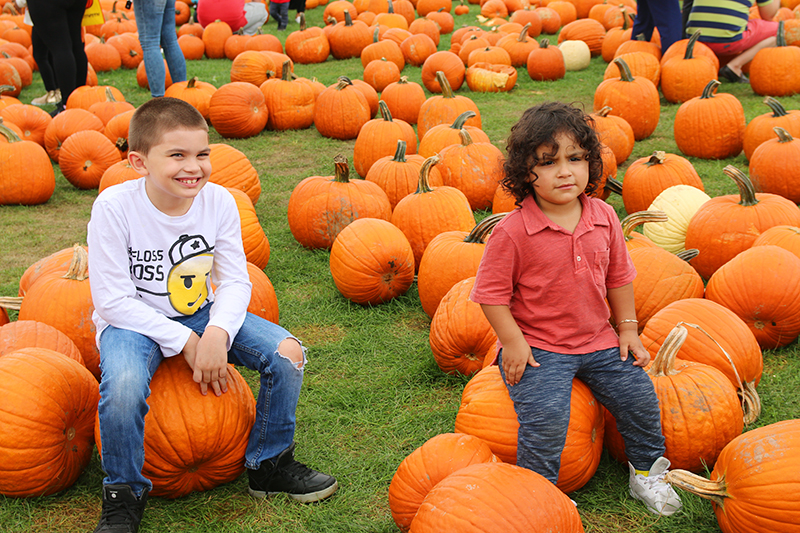 The kids are now in the spirit of picking out some halloween costumes. Not sure what I will dress Delilah up in this year, I'm really surprised to see that there aren't that many infant costumes out there. Mostly 6 months and up which will not fit her at all. The little that I found for infants were not my favorite, so maybe it's time to get on the drawing board and make something for her maybe? We shall see.
I hope everyone is having a wonderful fall so far and are checking off their fall bucket lists.