This post may contain affiliate links, when you click a link I'll get a commission from it, at no extra cost to you.
If you're looking for a bar cart for small spaces then this is the post for you. I love a good Bar Cart but unfortunately, I don't have one in my apartment because my kids would be rolling it all over the place! That can be a major disaster 😂. That's ok though it doesn't mean I don't have my own little bar area! Today I wanted to share some Alternative Bar Cart Ideas for Small Spaces and what can be used for a functional bar cart.
There are many different unique bar cart ideas to use now. If you have a cart already there are a lot of bar cart alternatives people are looking to use it for now, not only liquor. I wanted to show you my cheap bar cart ideas and how you can have a Bar Cabinet or a console table like I have with multiple shelves that can serve as multi-use furniture. What I love about using a console table for a bar area is that it is so versatile. You have so much room to mix things up on it from serving ware/drinkware to plates and of course your alcohol. So it's a great option if you're crunched for space and want something that is multifunctional in your home.  
Where to look for Alternative Bar Cart Furniture
I found this nice console table at Home Goods a few years ago and it has served its purpose in my home just fine. Compared to the prices of bar carts this piece of furniture was 1/3 less and it's multifunctional. If anything it's been great to decorate for the holidays or serve food above it and add my own personal touch per season. It's multifunctional and that's why I thought it worked great in the dining room.
Some other alternatives besides a console table are cabinets, buffets, and shelves. You can use these for areas where you have limited space and they usually can hold a lot. Buffets are usually for serve ware but you can surely add your liquor and glassware along with your dishes.
If I'm not hosting a gathering I will leave it decorated on top with frames, Archs, and a nice tray with some candles. If I'm having a party or get-together this is where I like to add my snacks, or beverages which are quick and easy to access since everyone gathers in the dining room for my get-togethers.
It serves as a buffet area where I can store some extra plates and glasses for appetizers or food, as well as makes hosting very convenient instead of running to the kitchen to get the items I need. Here are some things I like to keep on display for use:
Wine Racks
I bought this wine rack to organize my wines in the bottom middle of the table. I have my spirits on the side clustered together and that's pretty much all the bottle area I need. We aren't heavy drinkers so we just keep some staple bottles and we're good with that!
Boxes/Baskets
I used the wooden box to hold some glass decanters that I have usually filled with alcohol, usually, I have those displayed but I'm trying to keep it away from my toddler's eyes at the moment! In the meantime, the boxes keep them together and add some texture to the display. You can also store your cocktail shaker, shot glasses, and any small bar utensils needed for your bar cart area but may not want fully visible.
Pitchers
Of course for your beverages or cocktails you're serving, I love to keep my pitchers handy.
Dining and Appetizer Plates
For easier access to serve your guest while hosting in the dining room. I'll keep any extra regular size plates and small salad plates here stacked on the corner for quick access. I also like to add my chips and dip bowls here as well.
Cocktail Glasses
Because duh we need something to drink out of 😂 !
Napkins
For when you're dining or serving drinks!
Above the console table
I just remove the decorative pieces and leave my leaning frames and Wall Decor which I purchased at Kirkland and I will just add the dishes of food or snacks for when it's time to serve my guest.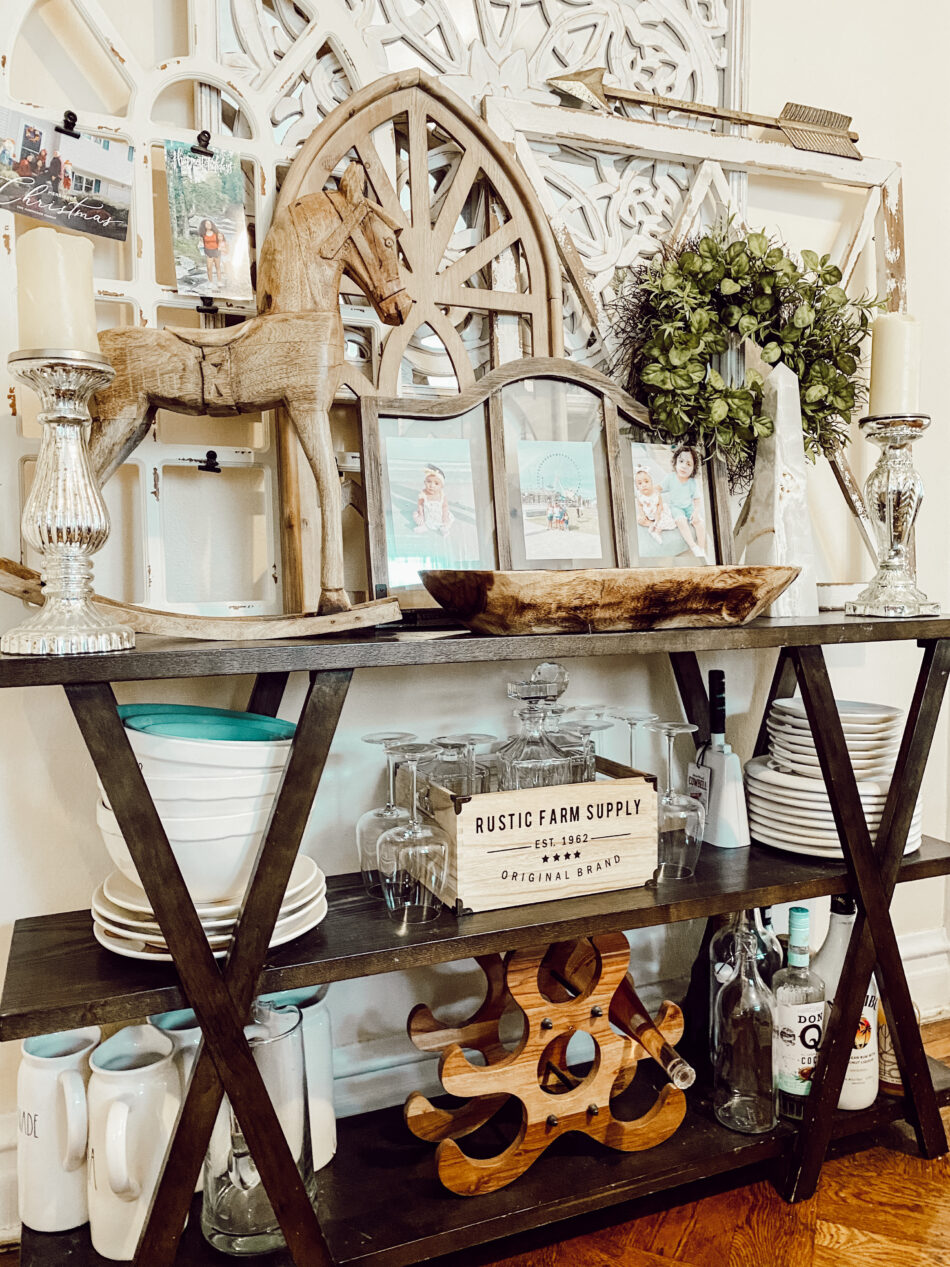 Here are some alternative options as bar carts:
White Cabinet is great for creating a minibar. There's space to add your glasses and bottles. Love that it has doors as well. The wood cabinet is great to mix it up and add random items from plates/bowls to glassware, you can always display your large bottles on top. I love finding alternate ways in making your small space or home functional. What are some ways that you like to use a home decor piece as multifunctional, I would love to hear some of your ideas 💡!