This post may contain affiliate links, when you click a link I'll get a commission from it, at no extra cost to you.
Tiered trays are one of my favorite trays to decorate. I love adding little trinkets and ceramics in a cluster to create a cohesive look. Something about them is so simple yet beautiful. The great thing about them is that they are so easy to decorate! They can be as simple or as detailed as you want them to be. They can be functional ….. and not which is the way I love it 🥰 just leave it out looking pretty! Here is my Valentine Tiered Tray Decor and tips to make one yourself!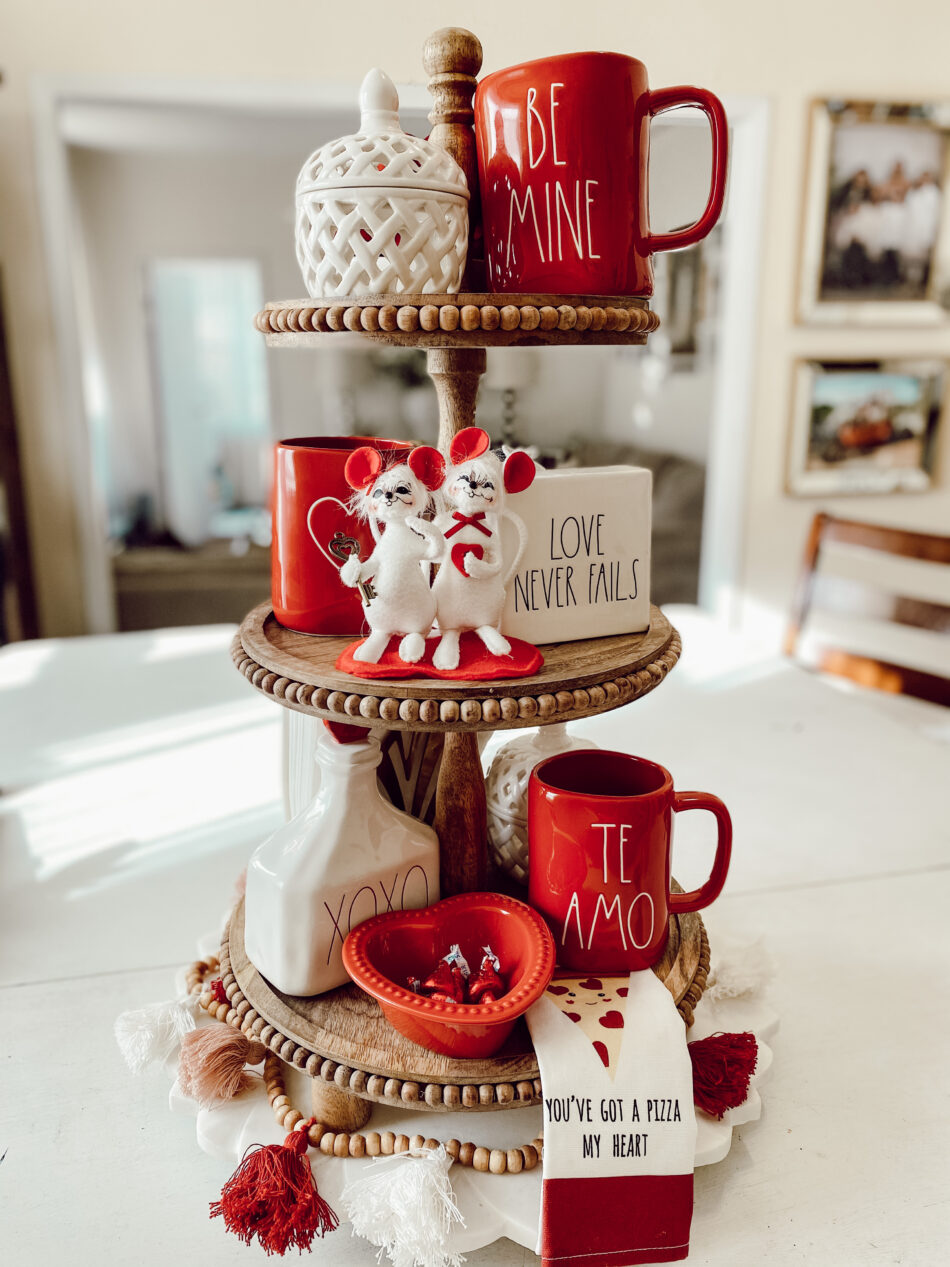 Theme
Choose a fun theme to work with, that way it's easier to choose which pieces to add to your tiered tray. I usually decorate tiered trays just for holiday seasons. This year although I didn't decorate my tray for Christmas, I will be decorating it for Valentine's day. I chose to stick with red and white for my tray and just use what I have on hand. You don't need to buy new things, just look around your home for things that match in color or theme and add them to the tray. Here I used my napkin holder, my little Ginger Jars I purchased in Hobby Lobby this past summer and some old valentine decor I have.
Choose A Tray
There are so many beautiful tiered trays out there to choose from. I usually buy my trays in Home Goods because they usually have the best prices. You can also find some amazing ones on amazon that come apart and you can build. Here are some of my favorite trays I've found to choose from. If you check out Home Goods now you may also be able to find some since they are currently coming out for Valentine's Day and Spring.
Gold Tiered Tray | Marble Tiered Tray | Wooden Tiered Tray | White Tiered Tray
Here's some Valentine Tiered Tray Ideas to incorporate into your tray:
Play With Different Sizes
I like to incorporate different size items onto my tiered tray as I shared here. It's all about balancing different items on the tray. If you have a larger item on the bottom tray, add smaller items on the top. If you want to mix different sizes on one tray, add one big item and a couple of small pieces. When you are creating symmetry try to add a tall item on one side, and on the other side as well so it is balanced.
Mugs
I love to decorate with mugs, Rae Dunn is my favorite but if you have other mugs that fit in your theme add them to the tray, they take up a good amount of space and look great.
Essentials
Add to your trays things you will use regularly. So if you are going for a coffee bar tray then add your mugs, stirrers, napkins, and toppings in jars to the tray. I have this tray on my dining room table's lazy susan so I decided to add my napkin holder from IKEA and I will be adding my salt and pepper shakers to it.
Accessories
Add some pretty garlands or beads to dress it up. I like to add them hanging off the mugs or the tray, or like this time I added one of my favorite tassel garlands on the bottom of the tray. You can also add some tea napkins and candy.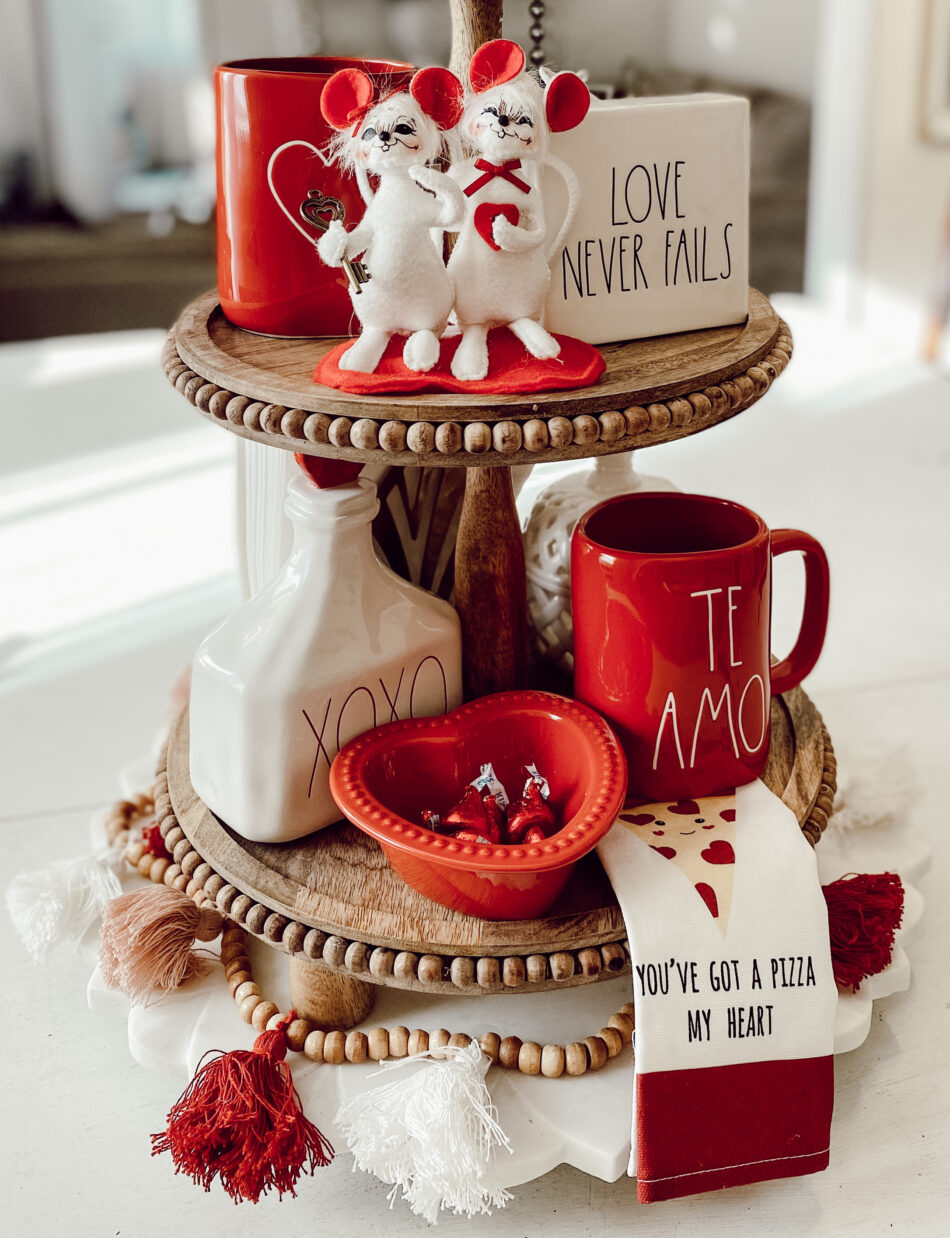 No matter what you add to your tiered tray, make sure it's things you love that spark joy when seeing it. Get creative and add to your hearts consent. I've seen tiered trays that are packed and some very simple and sophisticated, its all about playing around with pieces. Mix it up and have fun!