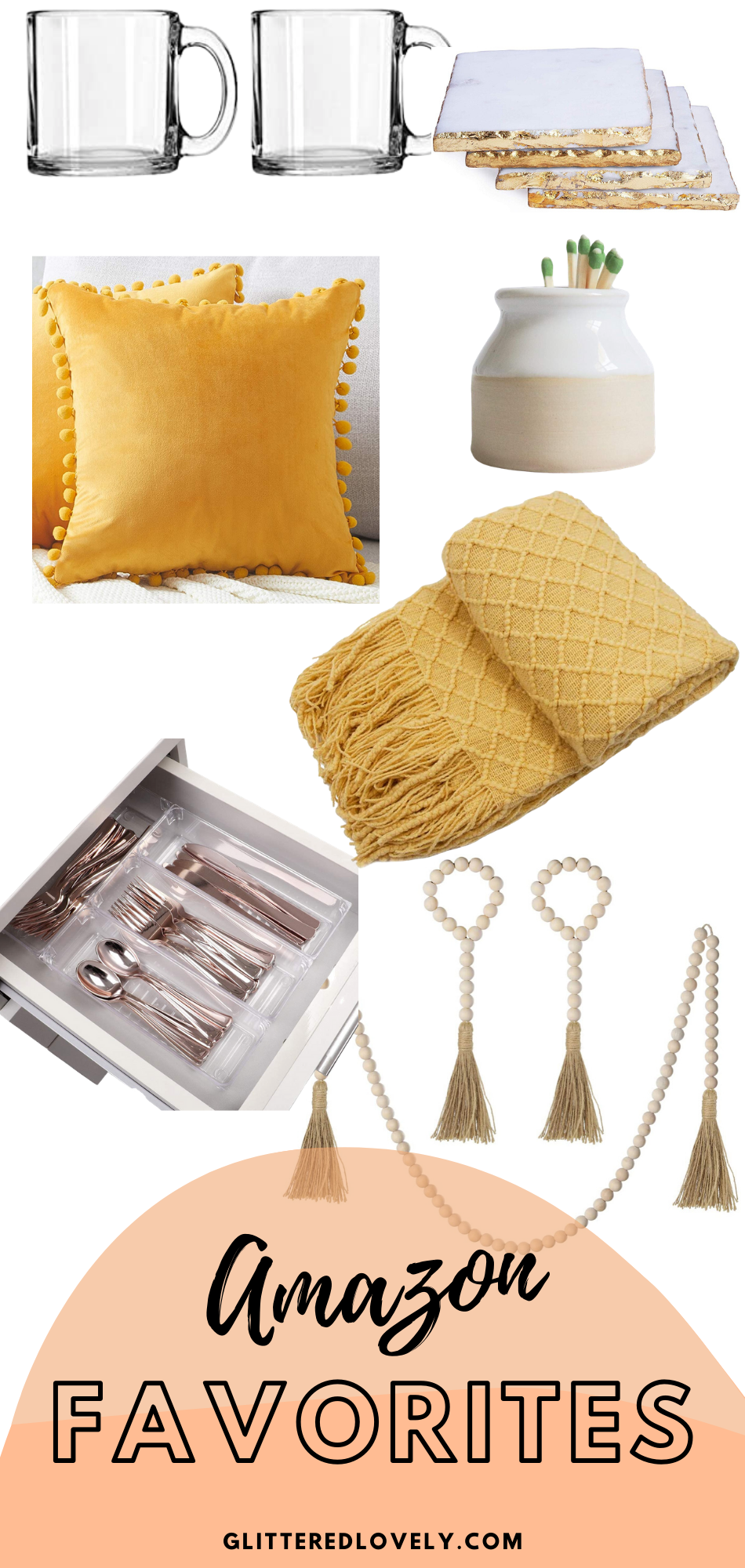 I have been going on Amazon a lot lately trying to find things to spruce up the home for summer. I am so into the natural, warm gold tones. I found a couple of great thing to add to the home not only for summer but that can also be used throughout the year. Here are some of my Amazon Decor Favorites:
One thing I got that I absolutely love are these clear mugs. These are the most reasonably priced ones I found so far and they come with six in a set which is awesome. I loved the see-through look for my cappuccinos but Ive also thought of maybe doing a little DIY on one with some vinyl.
I've been really into gold and marble touches and fell in love with these square coasters. They are heavy and solid and so beautiful stacked on a coffee table or side table. These will last a long time and look beautiful wherever you add them.
How lovely is this match sticker/holder. Its so cute and small to add by your candle and the sides even strike a match! So darn cute and practical! I mean how cool is it that the side of it strikes the match for you! Love that it's two tones as well. I got the white with cream.
Wooden Beads have been my favorite for decor around the home. I mean I love the natural look of them and how they enhance any decor piece or area just by laying them on to something. They are the best. I even DIY'd a marble, wood piece that I love and have been using for years! I still like to get extra pieces though when I find them at great prices like this one from amazon. It has three in a set which is great for only $12.99! I have it hanging on my leaning mirror in the living room and it looks beautiful.
These gorgeous pom pom pillows are so soft and the color is so vibrant. I got the mustard yellow and it is so velvety soft and looks great on my couch. I love that I can buy pillow cases and swap them out easily. Not only are they easy to change but they are easy to store!
Throw Blankets are my favorite especially in the living room or bedroom to cozy up too and watch a movie in. I know with summer approaching finding something that is a little more light weight was ideal for me and I got this yellow one which is so pretty and right now I just have it decorating the edge of my bed. I like collecting different colors for different seasons just to add a pop of color to a space.
The last thing I bought were these clear acrylic drawer organizers which in my opinion look so clean and sleek. I love how It goes with any drawer and if you have a nice lining in your drawers then it can show through as well all while seeing your items organized. These are so sturdy too which I loved compared to other acrylic items I've owned that cracked. So these were awesome and I will be purchasing more in the future.