This post may contain affiliate links, when you click a link I'll get a commission from it, at no extra cost to you.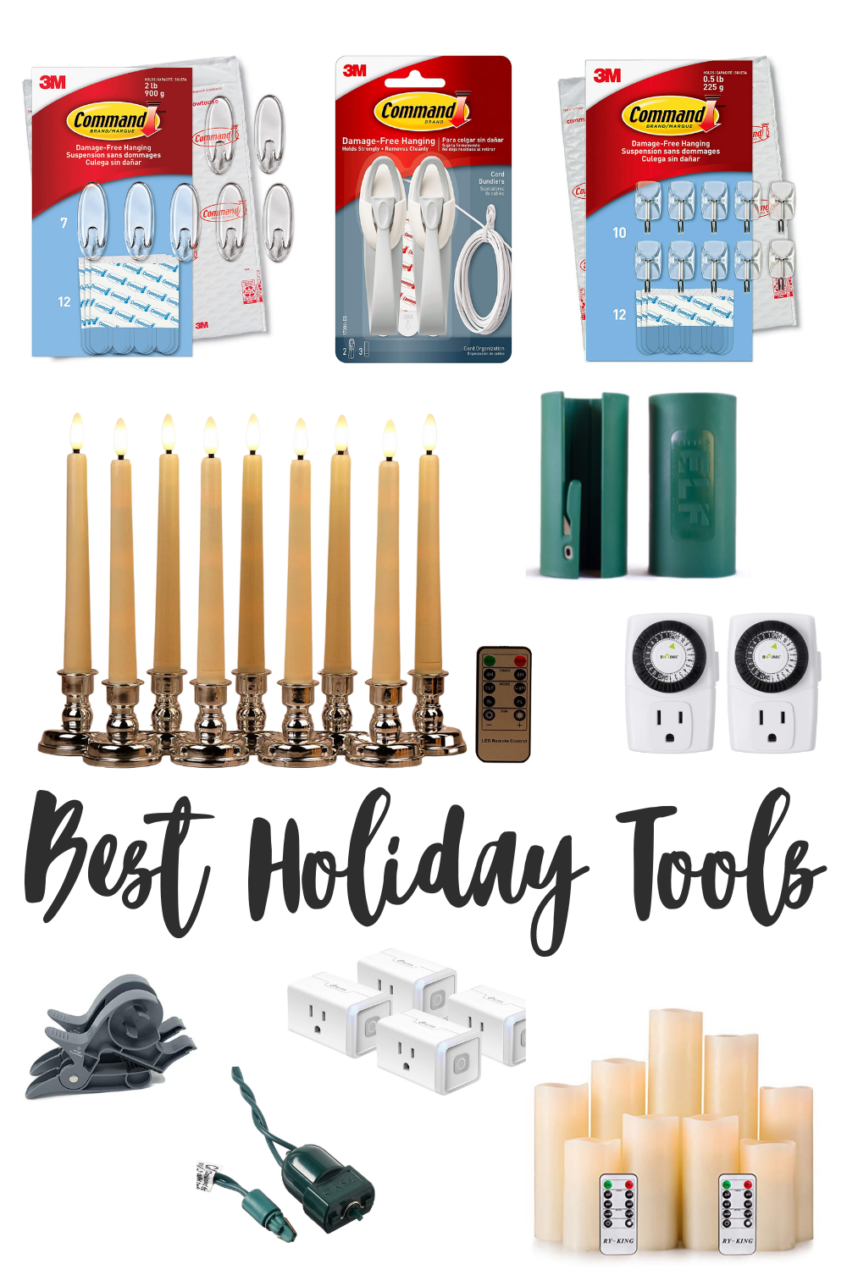 Part of decorating for Christmas and making the process easy is using the perfect tools! They will make it easy and quick to decorate. I have a few favorite tools to use for Holiday Decorating! These will make the whole process of putting everything up and getting things done super easy!
Best Holiday Tools:
Command Hooks: I love using command hooks for decorating with garlands and hanging up wreaths. I pretty much use them to hold any items along the walls without causing any damage to them. These are a couple of my favorite ones to use to hold wreaths up.
Twirling Ornament string: I love using the twirling ornament cord, for some of my ornaments. It really looks so pretty to see some twirling ornaments on your tree! They really stand out and It brings it to life in a different way. I like to use this for my ornament collections to make certain ones stand out.
Christmas Tube Holder & Cutter: Wrapping gifts during the holidays is pretty much nonstop, these two tools are so convenient for holding your roll together and also cutting the paper. This one will hold the roll on the table making it easier to pull and cut. It has a tape dispenser which helps for a hands-free experience.
Window Lights: Sometimes I want to add more lights to my window. Sometimes I don't want to add Christmas lights outside but still want some lights. That's where I use these candle sticks. They are battery-operated and turn on at night and off by themselves. They look beautiful on each windowsill and can even be used after the holidays.
Candles: If you are like me and love candles but get a little nervous about having them lit everywhere, these are amazing. You can control them with a remote to turn on and off and pretty much add them anywhere around your home and not have to worry about fires. I use these year round even after the Holidays. But these will make it easy to turn on and off lots of candles at once 🙂 .
Tree and Light Timers: So these are also game changers because now you can set it and forget it with these wonderful timers. You can even use this to turn any item on at a specific programmed time in your home. I use it at the moment for my lights outside to turn on at 5 pm and my Christmas tree as well. They also have these that you can control with Alexa!