This post may contain affiliate links, when you click a link I'll get a commission from it, at no extra cost to you.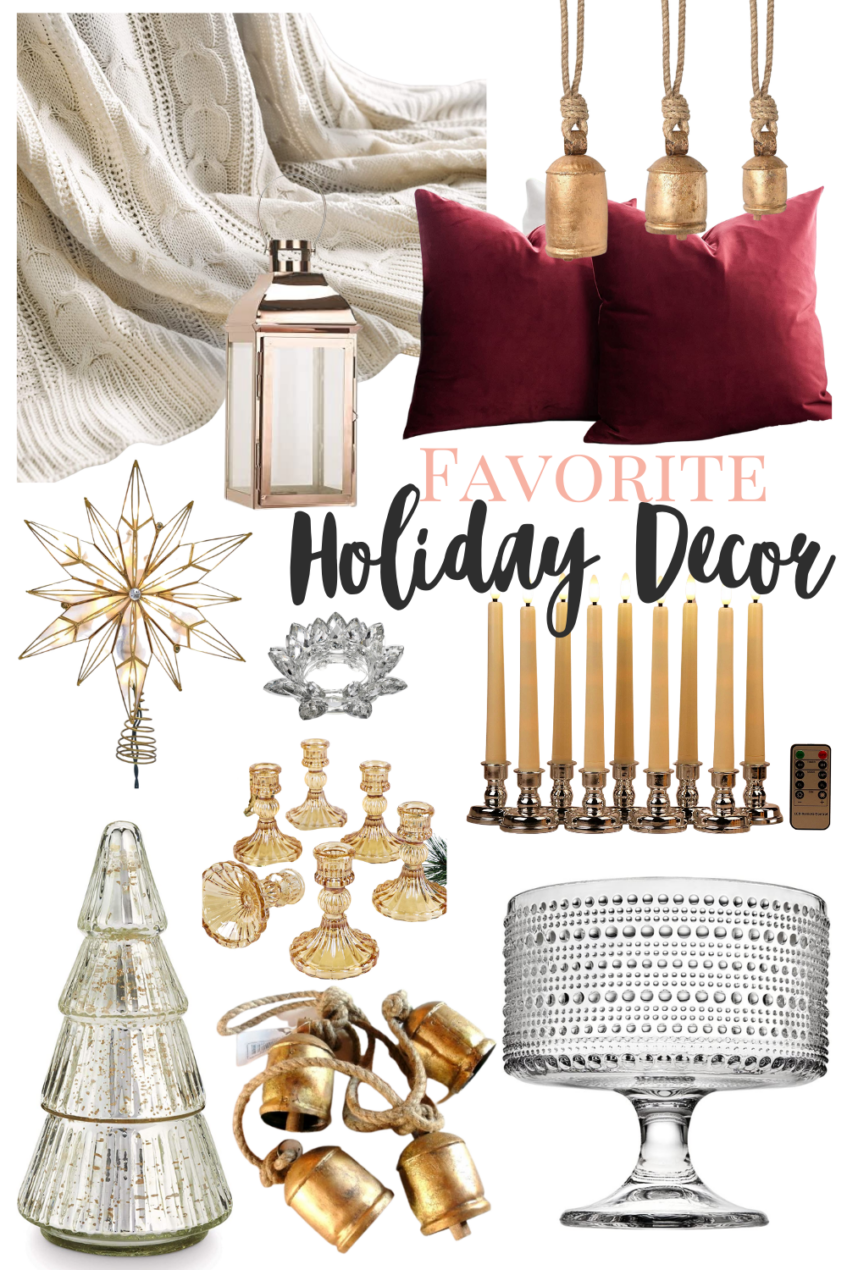 I am big on getting staple decor to use yearly and saving money during the Holidays. I love to decorate and buy new trendy items but there are some items I love to stick with year after year. This is a list of the Best Decor Items for Christmas I love using Yearly! These are Items I use year after year and absolutely love. It can also give you an idea of staple pieces to have in your home each year for Christmas that you can reuse.
Pillows:
I am a sucker for pillow covers. I have stopped buying the pillows with the inserts because I was losing space for them, instead I order my covers online now. When I am done with them I fold them and put them in the linen closet. For Christmas, I have really been into Velvet pillows that give rich color and feel so soft. These are my favorites.
Bells 🔔:
It's no secret. The bells are on trend this year. You pretty much see it everywhere and for good reason because they really do make a statement in the room. I love how antique and beautiful they look on the mantel hanging from a garland or style on a coffee table. The possibilities are endless! Now I have been finding a bunch of cute ones on the Internet at different price points and sizes. I'm talking about big one little ones some that are different shapes.
Ribbon Velvet:
I have found some beautiful ribbons to decorate with for the Holidays but something about the velvet ribbons gives such a wow factor. I love thin ribbons and wider ones as well to decorate with. They are perfect to add to gift wrapping, add to a wreath, and decorate your tree with.
Candles:
These are amazing to set it and forget it. They are battery-operated and when you add batteries they will turn on with the remote control. There are also some that when you program it on it will turn on every day at that exact time and shut off after 4/5 hours. Wonderful to set it and forget it.
Cake Stands:
I use these so much during the Holidays to add desserts for entertaining or pudding dips.
Mercury Trees:
Today I am sharing some of the Best Items to Decorate with for Christmas.
I have been collecting these little by little as I see them in Home Goods. I think I have hit my max amount because storing them has been a bit of a challenge for me to avoid breaking them. But they are lovely, some even come battery-operated and they light up beautifully. I love to use these on my Dining table or on my mantel.