This post may contain affiliate links, when you click a link I'll get a commission from it, at no extra cost to you.
Sometimes decorating a console table can be a little tricky. What do I do with this long thin table? Does it look like I have too little, or too much? I have two that I use all the time and try to arrange differently from time to time. I have one in my dining room where I love to use it as a bar/buffet and then I have one in my living room. Today I want to share how I decorate my console table and show you different ways I rearrange my décor from time to time. Console tables can be very multifunctional or they can serve as a simple table to have in your entryway with things that you drop into a bowl when you enter a room. Or they can serve as a sofa table behind your couch, which holds your lamps, a décor piece, and much more. Here is how you can decorate a console table …..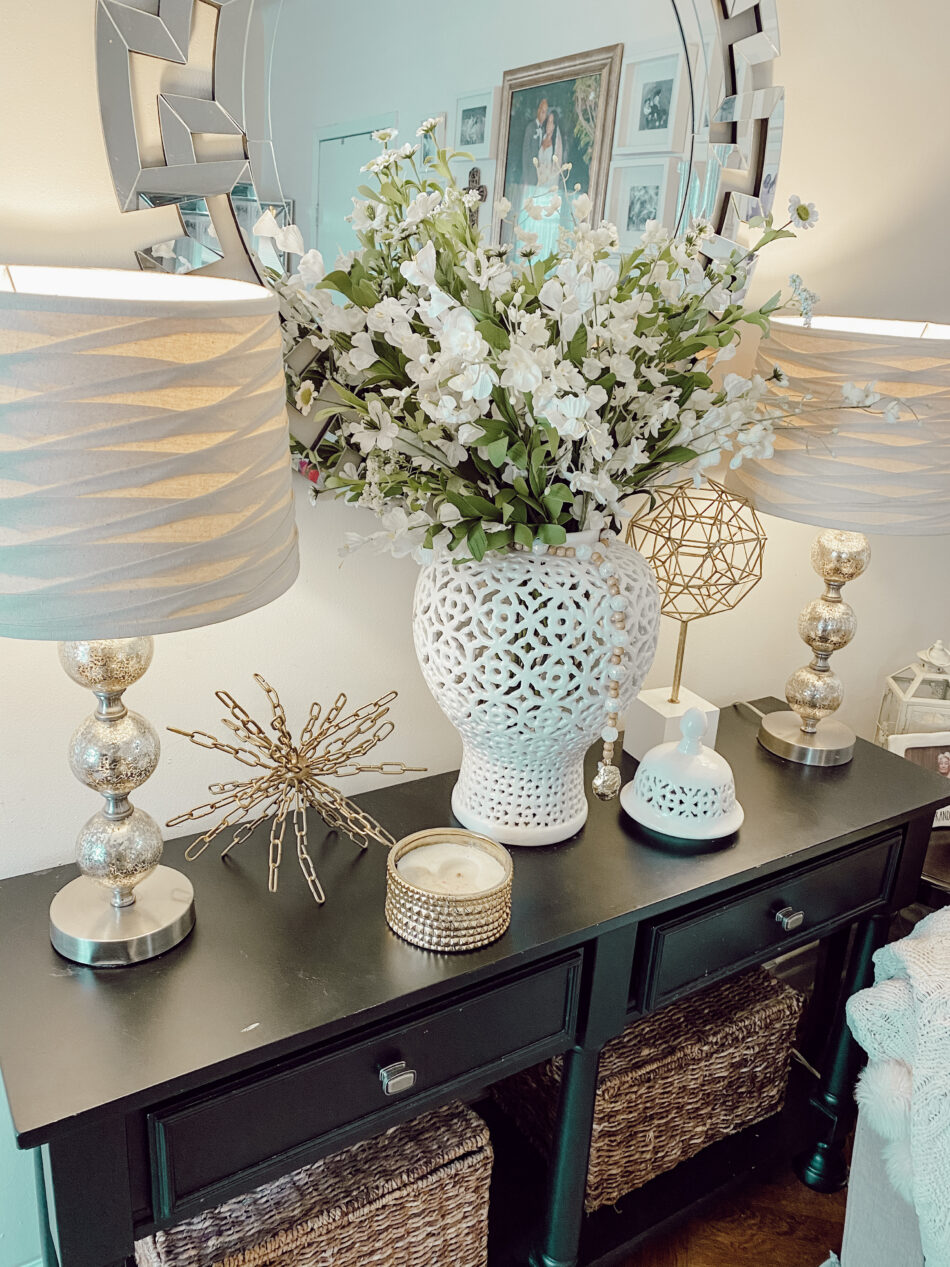 Have A mixture of Shapes
When decorating your table try using décor pieces with a mixture of shapes to give it dimension. Use tall, medium, short, fat décor pieces to make it balance well. You don't want to put too many small items or too many big items. In my current set up I used two large lamps on either side and a nice large mirror above it centered. Then in the middle, I added a nice large vase to add faux florals inside. On the side, I added a candle and the lid of the ginger jar (my small and medium items). I created asymmetric balance.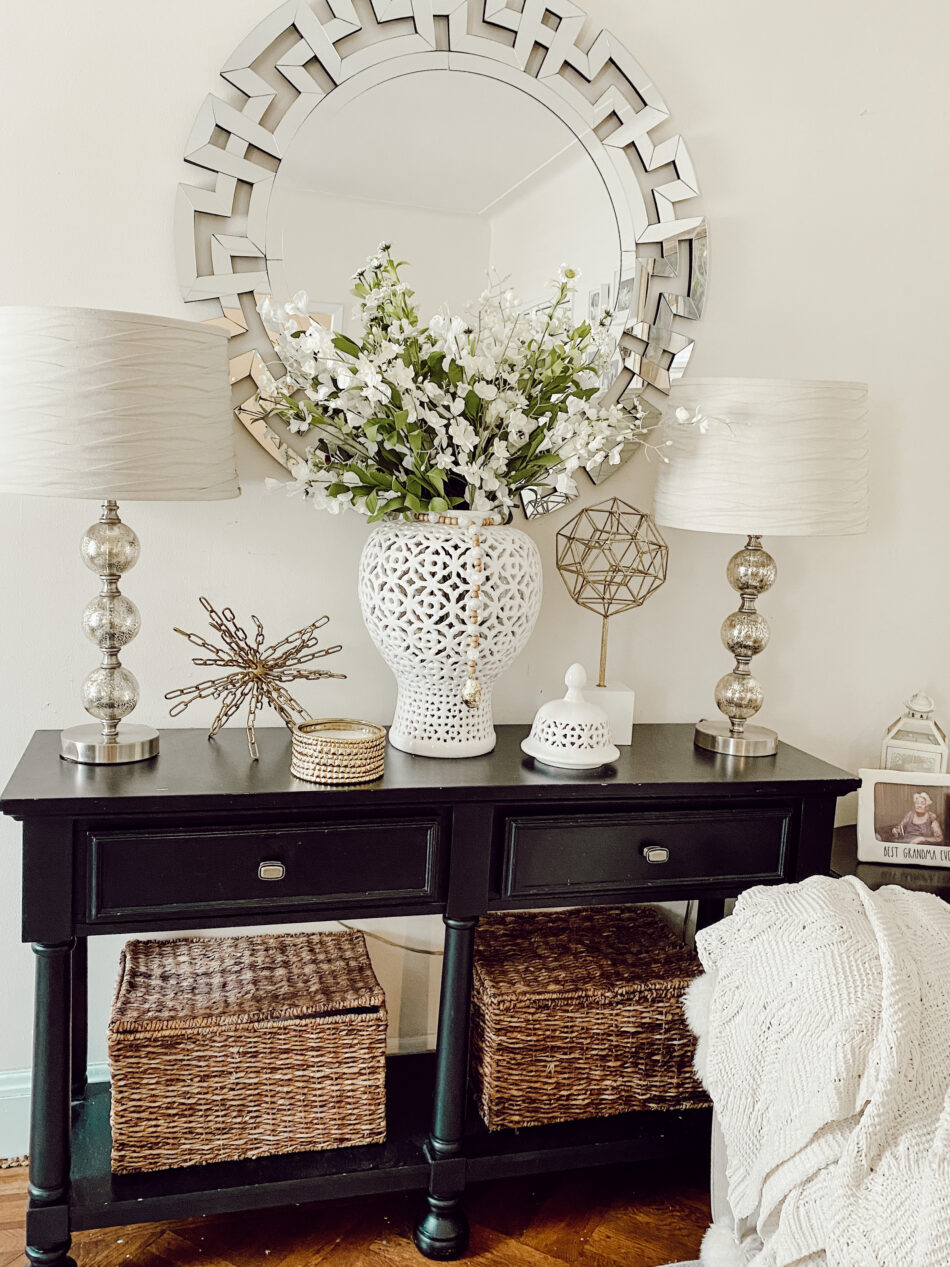 In this option, I used my large wooden rocking horse. You can see I used a lot of items but in varying sizes. If you have open space on the bottom, it's nice to add some baskets below to store toys, or items you don't want seen or you can add throw blankets there as well. You can add benches, ottomans below it as a way to give a big impact without multiple items in the space.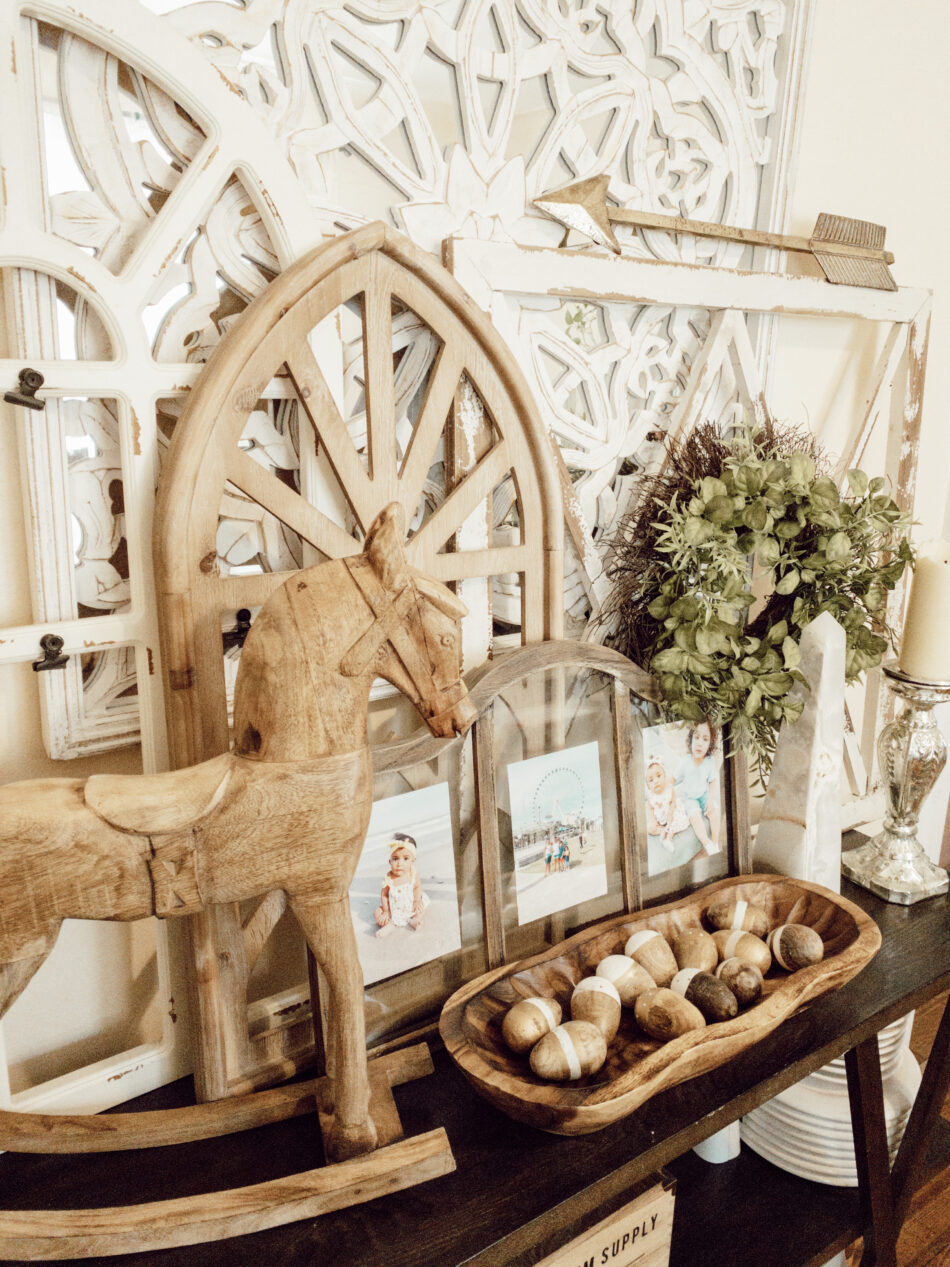 Add a catch All
If you are thinking of decorating your console table for your entryway add a bowl or a nice tray in the center to catch all of your keys, wallet, and little items that you like to put down when entering the home. It will keep it all together while looking neat at the same time of course 😊.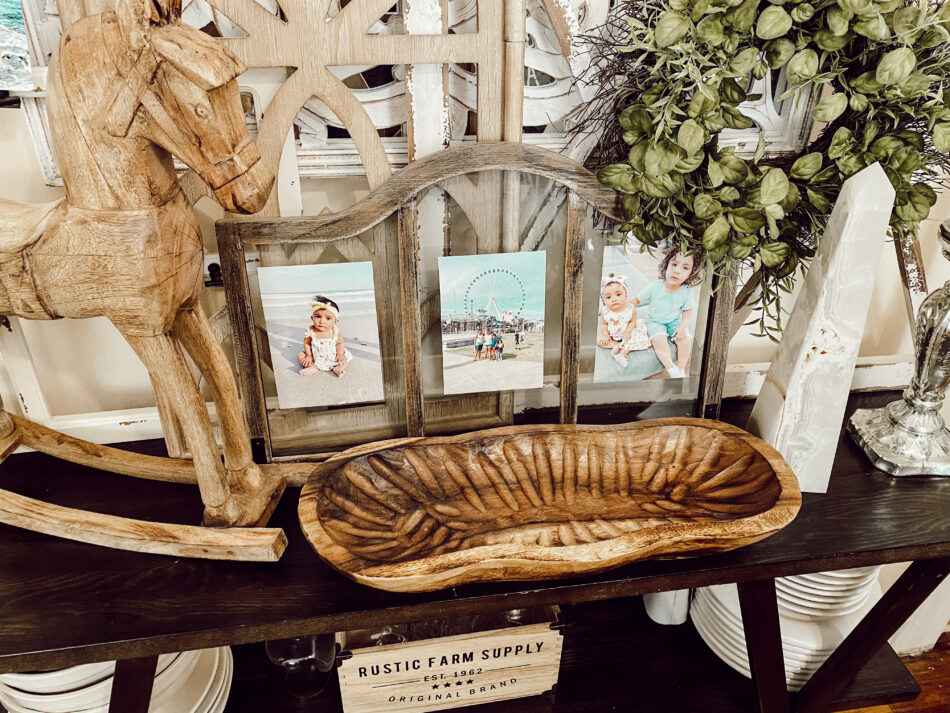 Decorate above the table
If your console table is not behind your couch, try to decorate above it with a large mirror, photos frames, or nice wall décor. I have a big Mirror centered in my living room console table. In my dining room however I have lots of layered frames in front of a wooden wall art. I like the cluster of décor that I can easily move when I use it as a buffet for when I have friends over and add dishes there instead.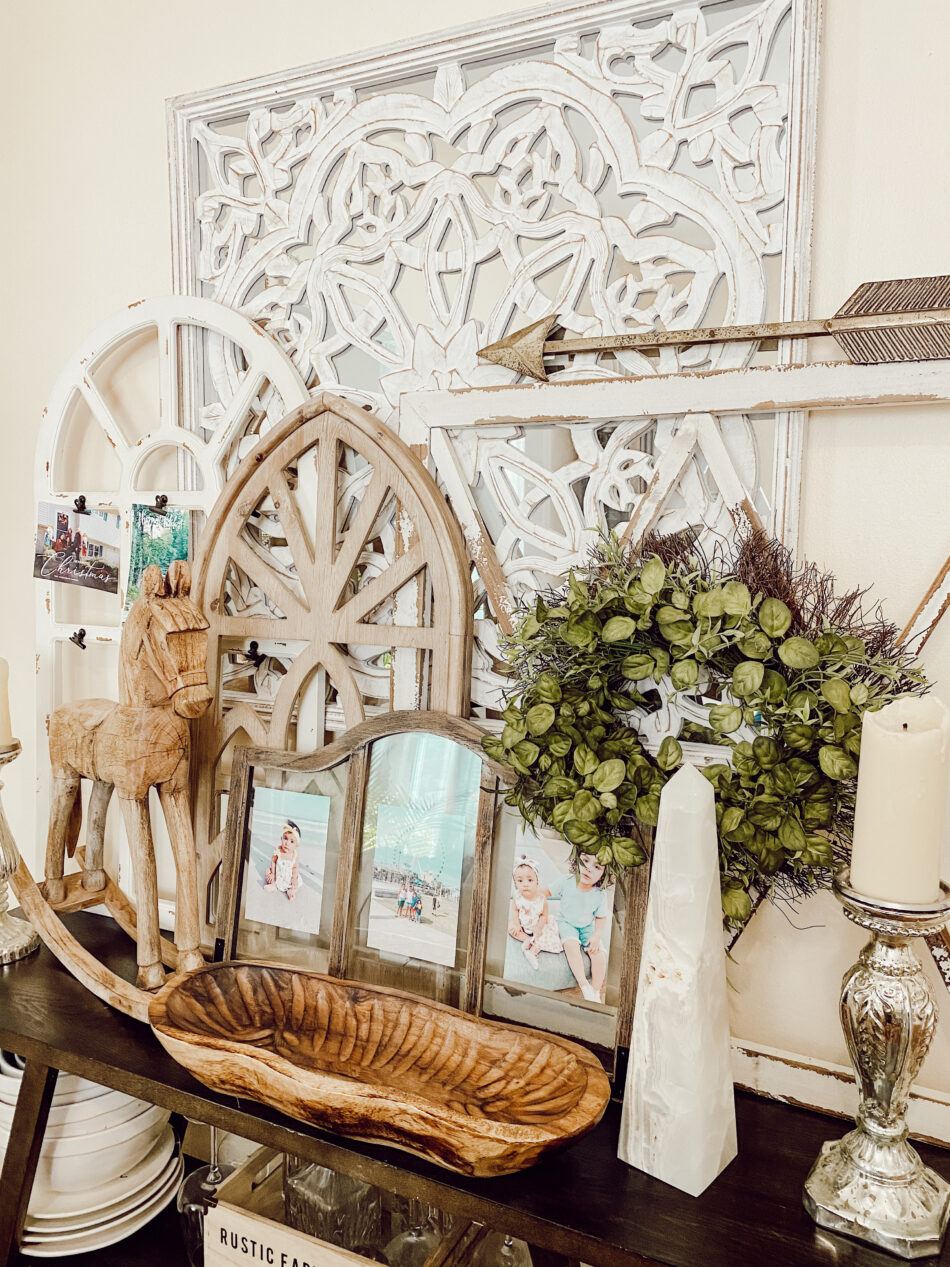 Hopefully these can give you some creative ideas on how to decorate your console table. Here are some decorative items I love to use when I change it up.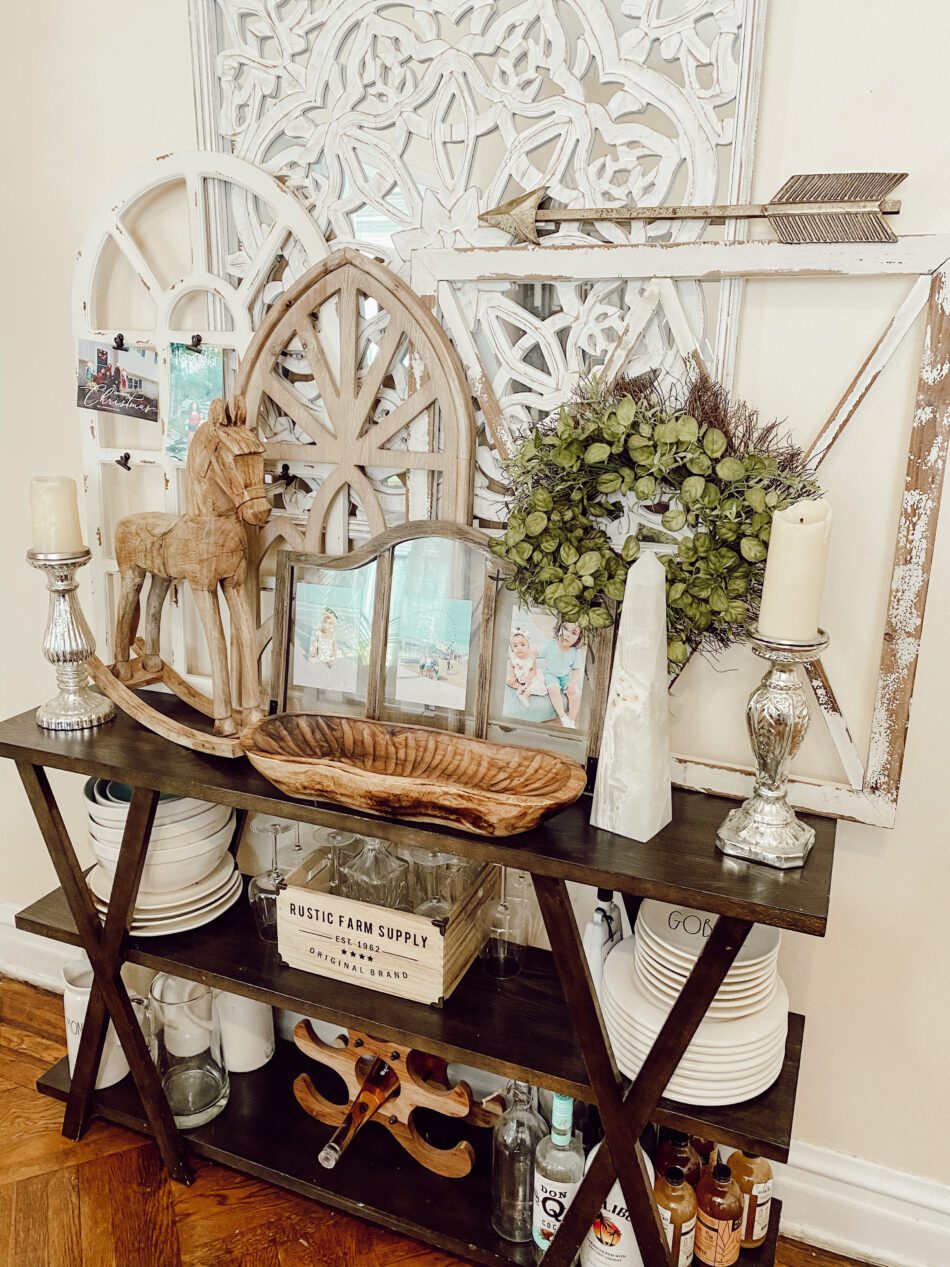 Decorative Pieces I love to use to Decorate
Books: I love to stack them nicely and layer things on top of them.
Trays or Bowls: To hold items like keys and wallets. Here I have a dough bowl that I love.
Vases: Ginger Jars are my favorite because of their lids but any vase will do. Ginger jars though look beautiful both with the lid on and also off with flowers inside so it's versatile.
Baskets: To store items inside or to add blankets and pillows.
Ottomans/Garden Stools to fill your bottom space.
Lamps are always great to add lighting to your space of course but also to stand beautifully one either corner of your table.