This post may contain affiliate links, when you click a link I'll get a commission from it, at no extra cost to you.
Mother's Day Is soon approaching and if you haven't decided what you're getting your mom, here is a fun list of ideas that will surely make her smile. These are Mother's Day Gift Ideas that I'm sure she will love 💕 and are also so fun. A little bit of everything from the workout mom, beauty mom, cooking mom to the fashionista mom.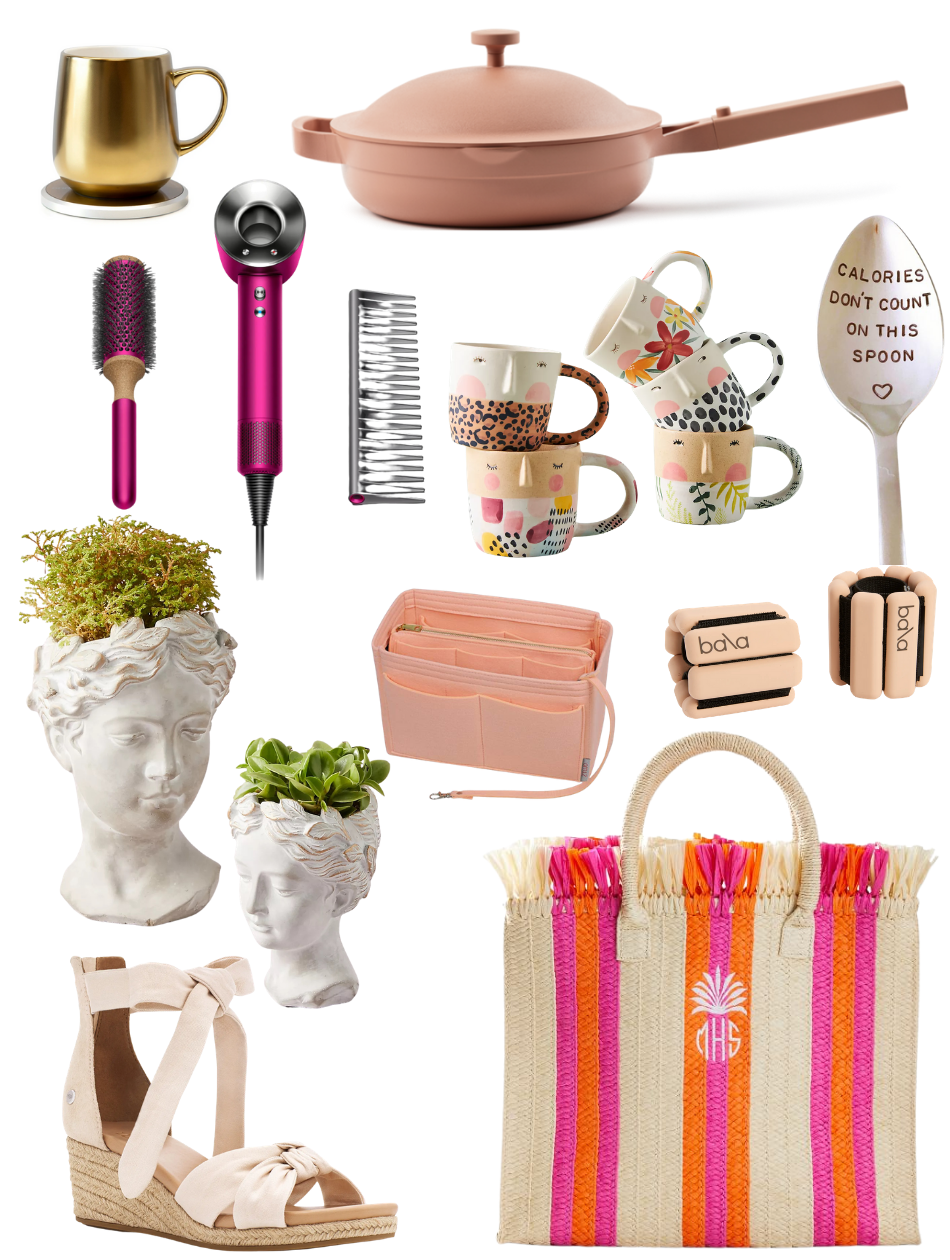 I raved about these beautiful bust planters on Instagram and have them decorated throughout my home. I love them, this would be the perfect gift for the plant mom.
Beautiful Straw beach tote in my favorite colors too!
A Purse Organizer is always an amazing thing to have when you're switching out your bags.
I have been wanting this pan, and who knows maybe ill get it for Mother's Day 😉. I just like the idea of having one pan for everything! Also and who doesn't love their cool colors!
I have heard nothing but great things about the Dyson hair dryer. It is pricy but if you know your mom loves to blow dry her hair constantly then it's a great investment.
Espadrilles are my favorite sandals and these look so beautiful and comfortable as well!
For the coffee loving mama, this mug-warming mug is perfect for that busy mom. You know the one who always lets her coffee get cold.
These hand-stamped spoons are my favorite. There are different phrases for different seasons and reasons 😛. They have one that also says mom, I love you a latte.
What cuter way to pair those custom stamped spoons with this cute mug set. I have been eyeing these mugs for a while now and I will be adding them to my collection. They are so colorful and adorable.
Workout mamas would love these bangled weights. Stylish and minimal 💗.
I hope these Mother's Day Gift Ideas have sparked some inspiration on what to gift your mom for Mother's Day! If you're a mom what has been on your wishlist?