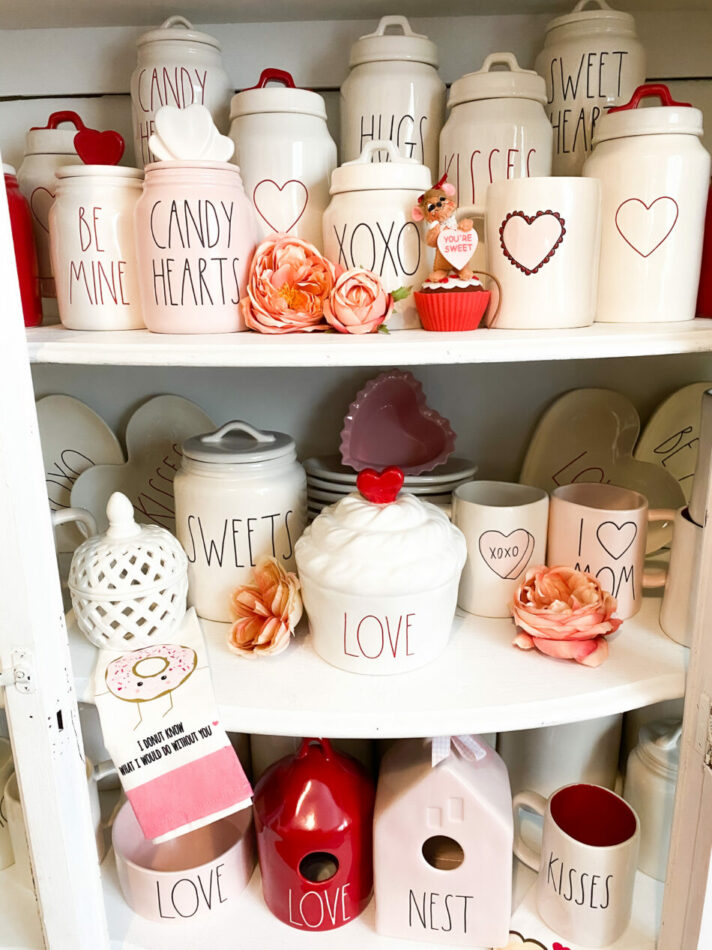 Sharing details on how I love Decorating a Hutch for Valentine's Day over on Instagram today and thought I'd blog about the details of my Hutch Decor. I never knew how much I would love it till I got one! Decorating a Hutch for Valentine's Day is one of my favorite things to change up every year. When I grew up we knew them as the "Chinero" (China Cabinet in Spanish) you may know it as a hutch as well. I always thought they were so outdated but now that I have one, I love it! I try to decorate it and change things up as often as I can.
As some of you know, I am a huge Rae Dunn Collector. I love her simple white pottery the best. It's the main (or mostly only 😆) pottery I put in my Hutch. I love keeping one color scheme in there. Although I have a lot of colored canisters and mugs I try to use my staples in the hutch and just turn them around for a simple clean look. I just display the current holiday pieces. Keeps the hutch looking full but also not so overwhelming.
What I Use to Decorate It
I suggest if you are looking to decorate a hutch/cabinet try sticking to simple pottery or glassware that all go well together. Sometimes less is more ….. unless it's Rae Dunn then it's never less is more 😂. I laugh because if you're a collector, you just know!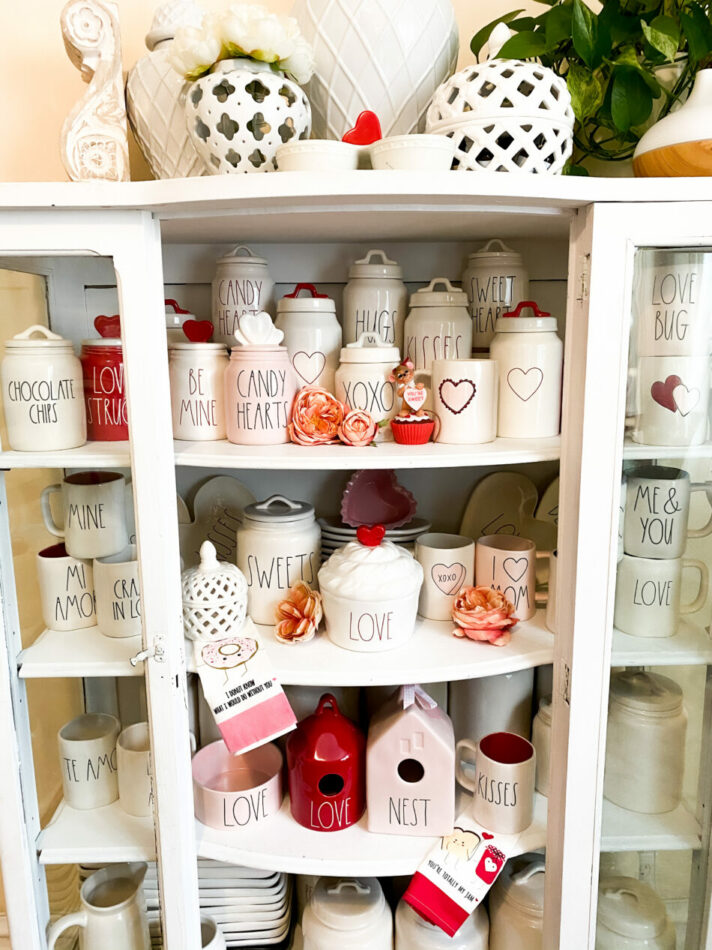 Although my Dunn pieces are my staple items in the cabinet, I also love adding little florals to the hutch to give it a pop of color. I used these cute tea napkins I found in Joannes a couple of years back. A couple of these adorable Analee dolls. I don't always use her fur babies but the valentine's collection is the best so I bought two of them 😊.
I love to use risers to decorate my hutch. Some Items I love are some small cupcake stands I found at Home Goods for really cheap a few years back. It comes with a set of four and it helps lift up some of my canister or mugs to display better. They usually come out with different colors every season. I got these adorable pink ones around Valentine's Day last year and have used them even in the Holidays. You can also use plates to raise your pieces as well. Doing this will help display your pieces and not block out the canisters in the back and add different heights. It's all about playing around with pieces and pretty much seeing what works great together is what I like to do.
Whichever way you decide to decorate your hutch, make sure it's with things you love, you can always add greenery like plants, or other decor to mix it up a bit. I just like having it all with Dunn because that's what I love to collect. I hope this strike some inspiration if you have ever been curious about owning a hutch and decorating it.