I love Home Décor but it can get expensive when you're always trying to buy the latest new item. I'm guilty of roaming through the stores and wanting something expensive. The good news is, you don't always need expensive items to make your home look expensive. I love to mix things up and save but also have my home feel expensive. Here are some cheap ways to make your home look expensive without breaking the bank.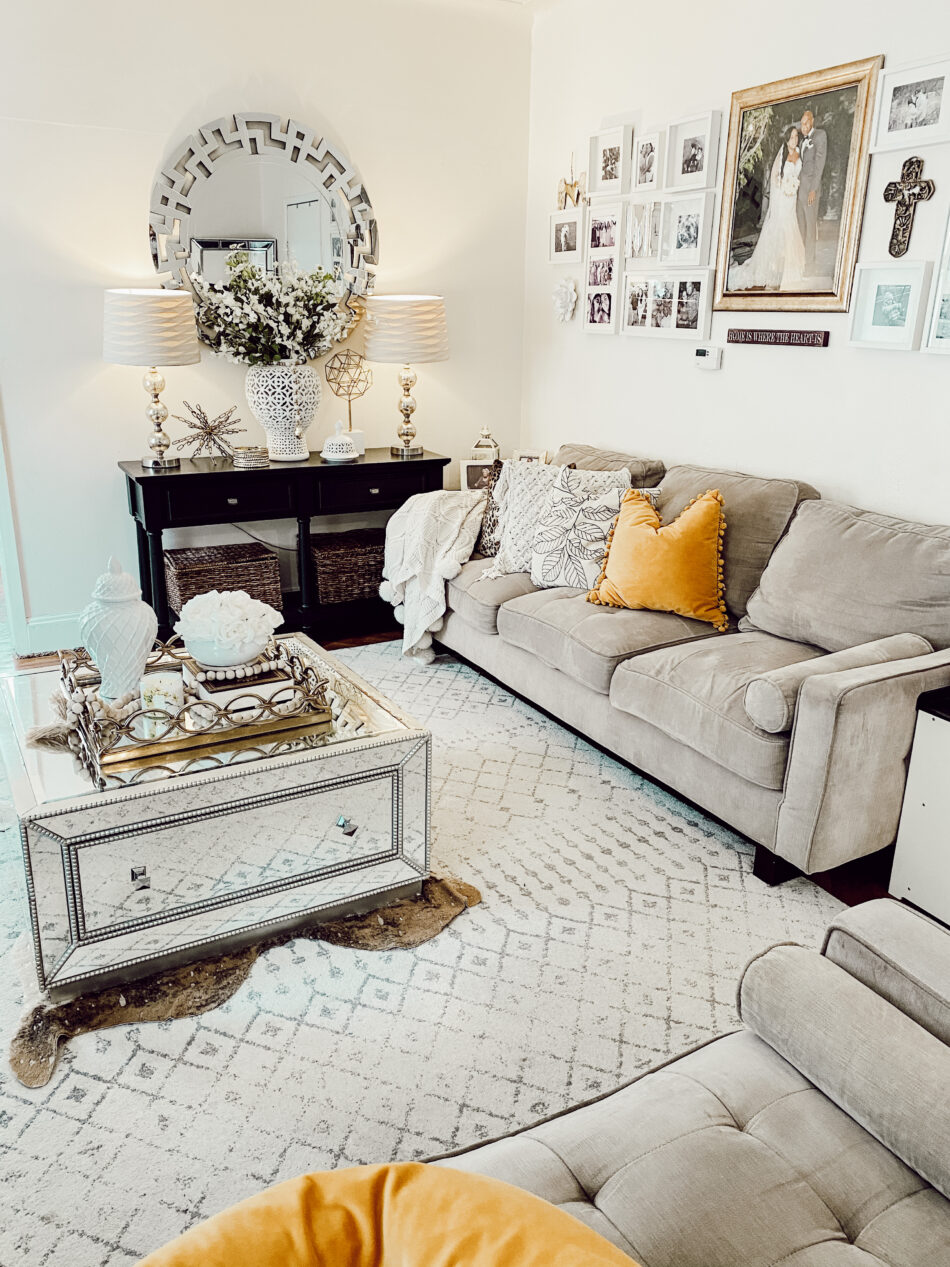 Purchase Items for Less that You Can Customize
Purchase Items from Goodwill that you can easily spray paint and change to match your style. I have found some awesome picture frames for really cheap in goodwill and spruced it up with some spray paint and they look brand new! Don't overlook Ikea as well for frames, a lot of the frames I have gotten are from Ikea and look great together. Easily look for pieces of décor that you can transform and make your own. Buy it for super cheap and repurpose it into something you love! Elevate the look of old furniture by painting it too and adding new hardware to it. Our kitchen was a great example of this, here I spray painted my metal vintage cabinets and added new hardware from Homegoods!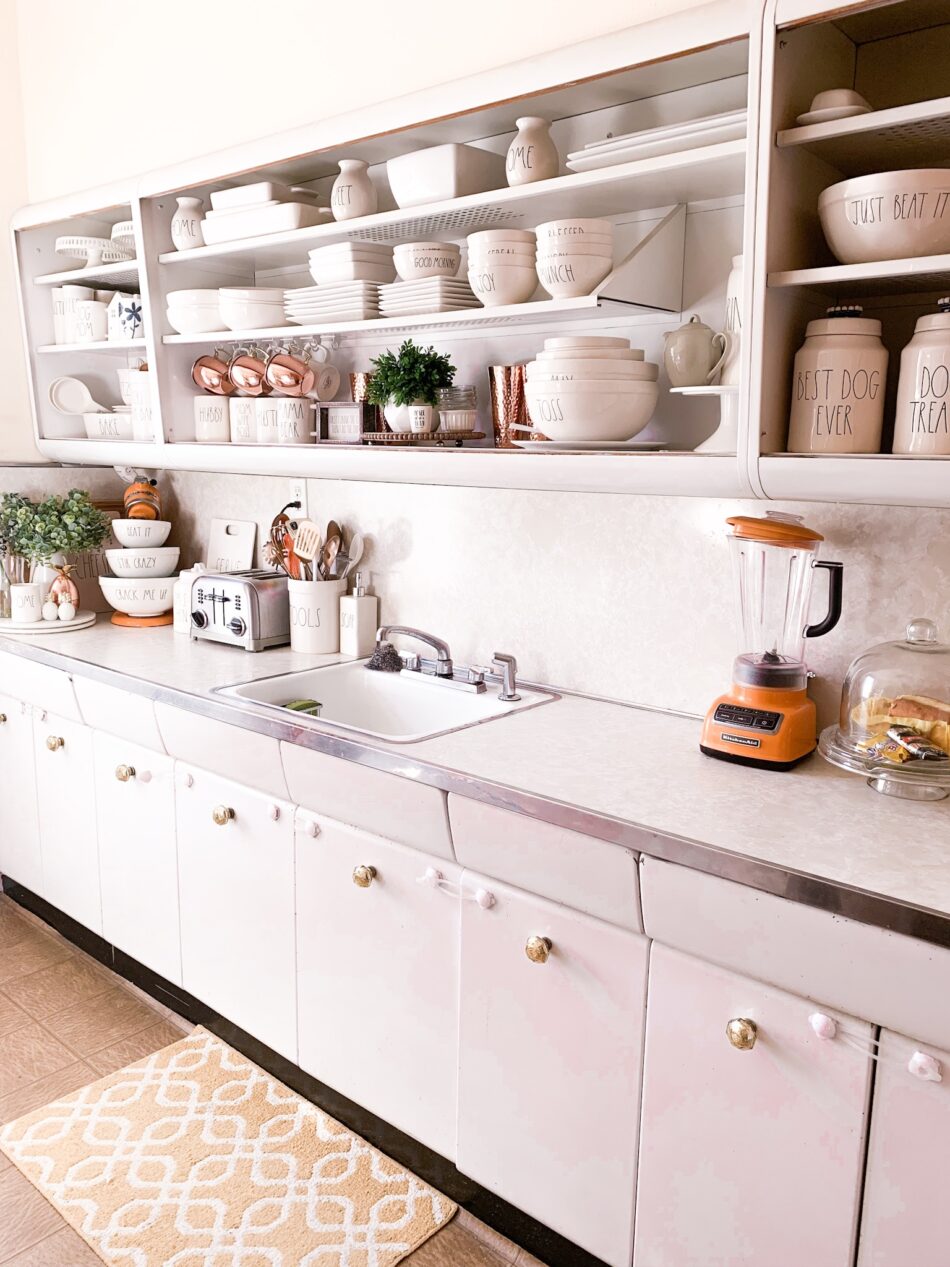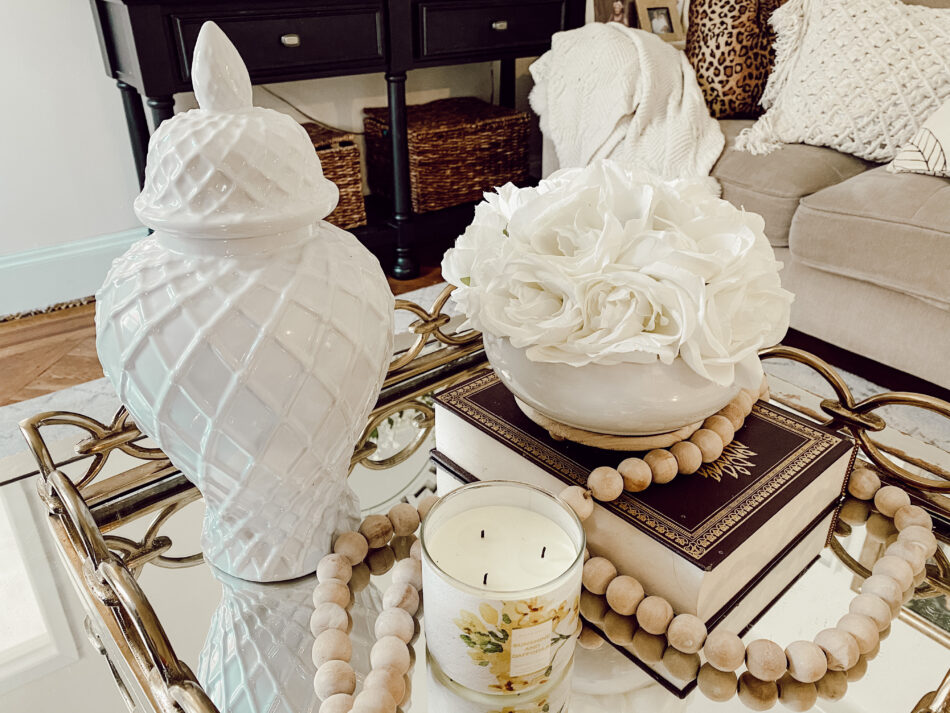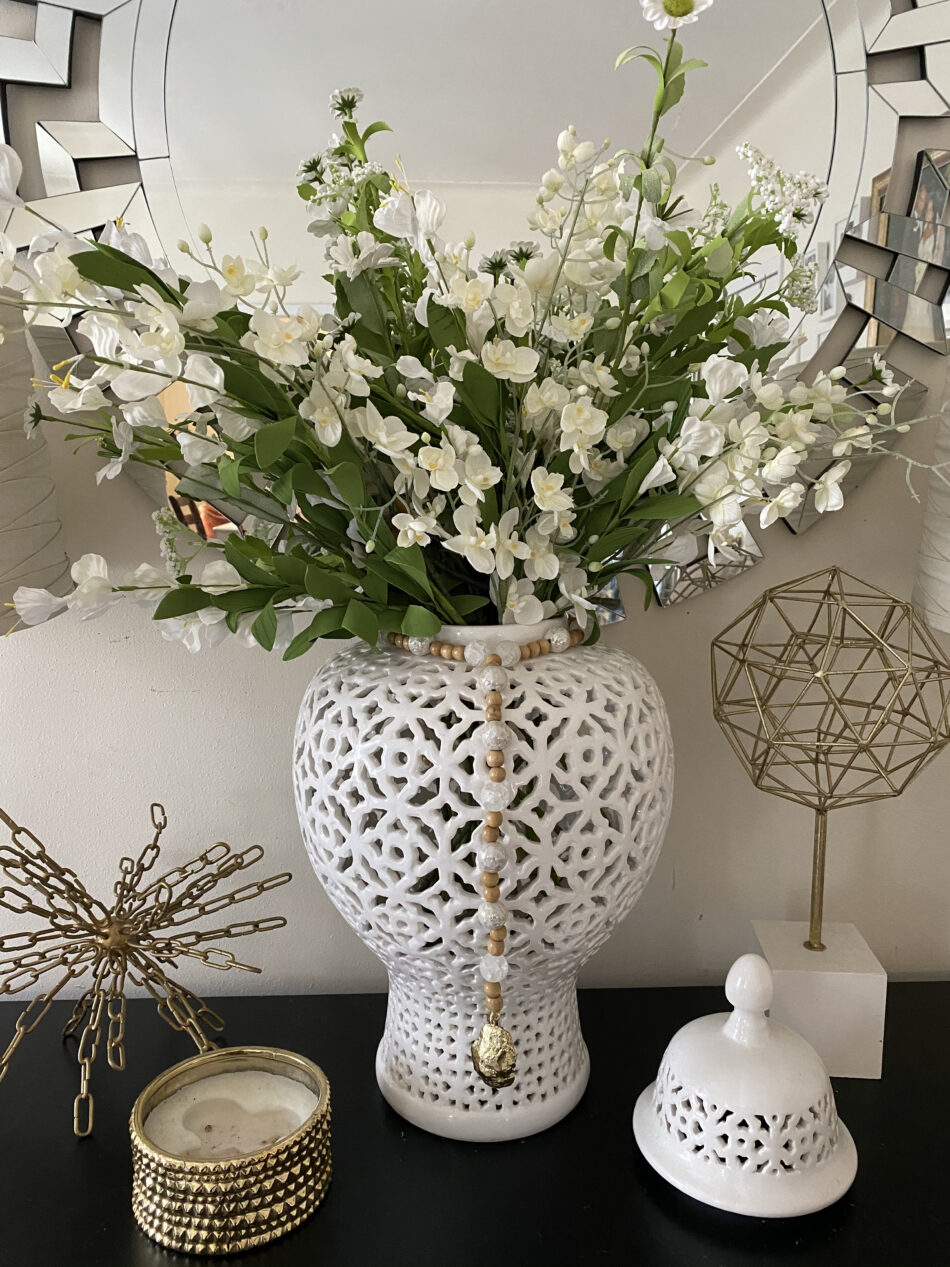 Avoid Clutter
Try to avoid clutter as much as possible. Here I shared how to declutter items from your home. When styling your space get rid of too many small Knick knacks or items that don't go with your overall look. Try to stick with bigger pieces that take up a little more space (I like to go with the size of my head or bigger lol) to give an impact look without having to buy so many small decor pieces to decorate a space.
Add a wallpapered Accent Wall
Removable wallpaper is so popular now! It's very renter-friendly as well, so change up a space and make it look glam with a new accent wall. It will make your space look completely custom and beautiful.
Hang Your Drapes High
Don't put them right above the window, try to raise it as high as possible leaving about 6″ from the ceiling to hang your curtains. It will make your space look bigger with the long beautiful drapes.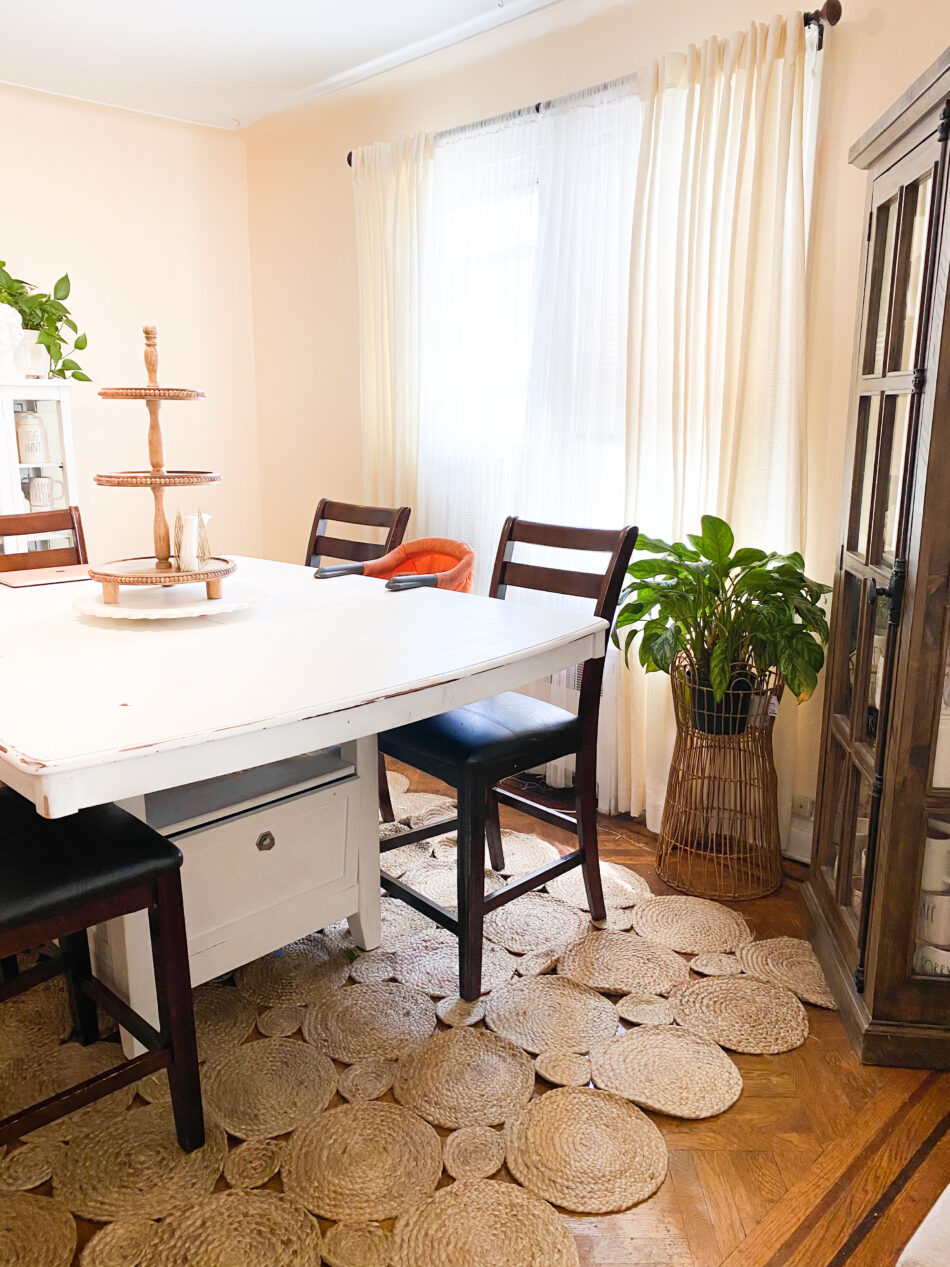 Keep things out of Sight
Display only your decor items you love to look at and try to keep any other items like toys, beauty products, or any random items out of sight. Store them in pretty bins or baskets or in your cabinet drawers where they can stay out of sight and helps your space look clutter free.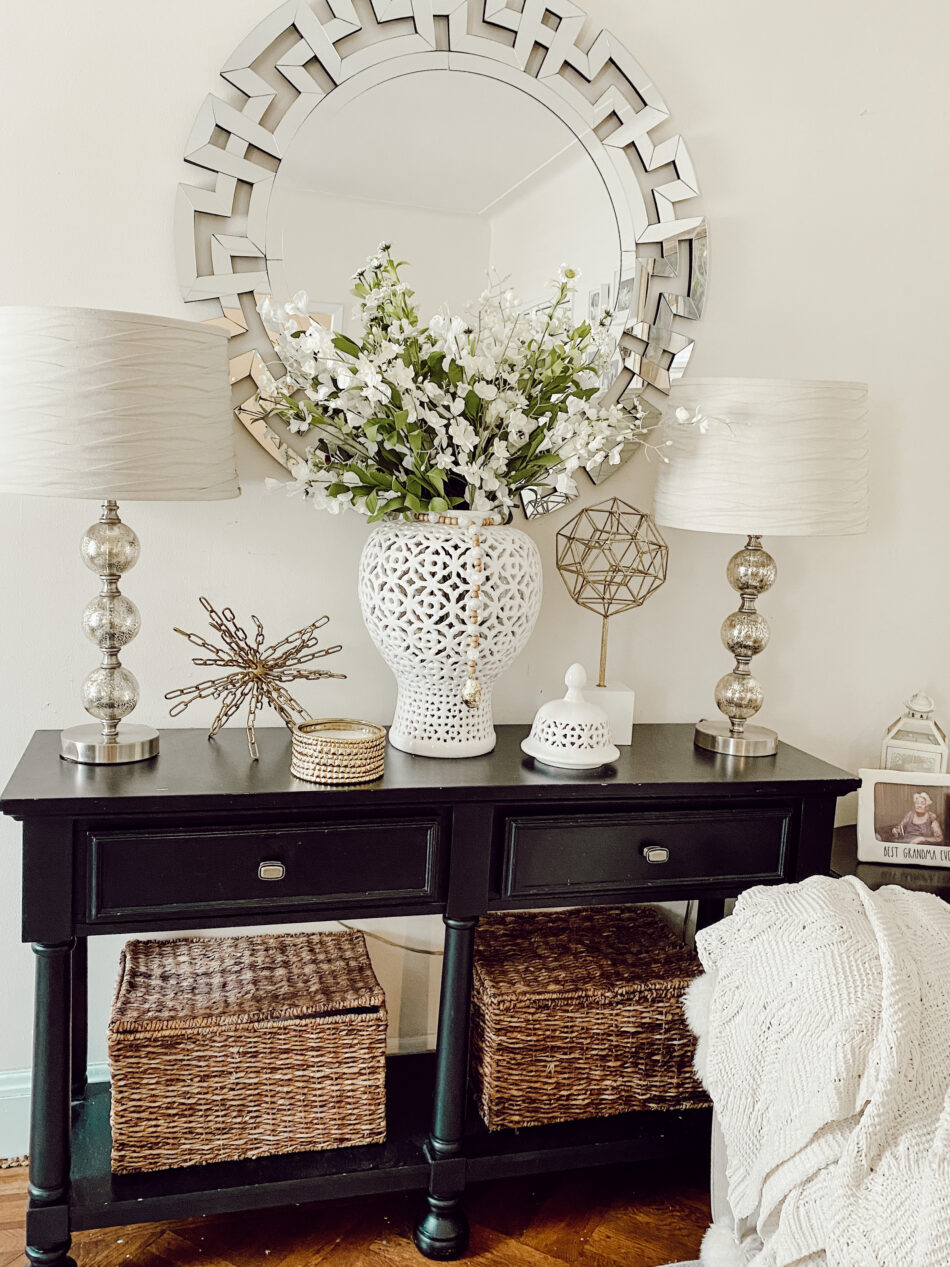 Bins are my favorite to use to hide toys and other things I want to have out of sight.
Get Furniture that Fits your Space
I see this a lot, some people just buy furniture that doesn't fit their home. So guilty of this as well. I have had to switch out pieces because they were too big or too small for my space. You have to think of the scale of a furniture piece you're looking at with the size of your room. You don't want a sofa that's too small that makes the living room look empty or too big that you don't have room to add other furniture. Measuring is key.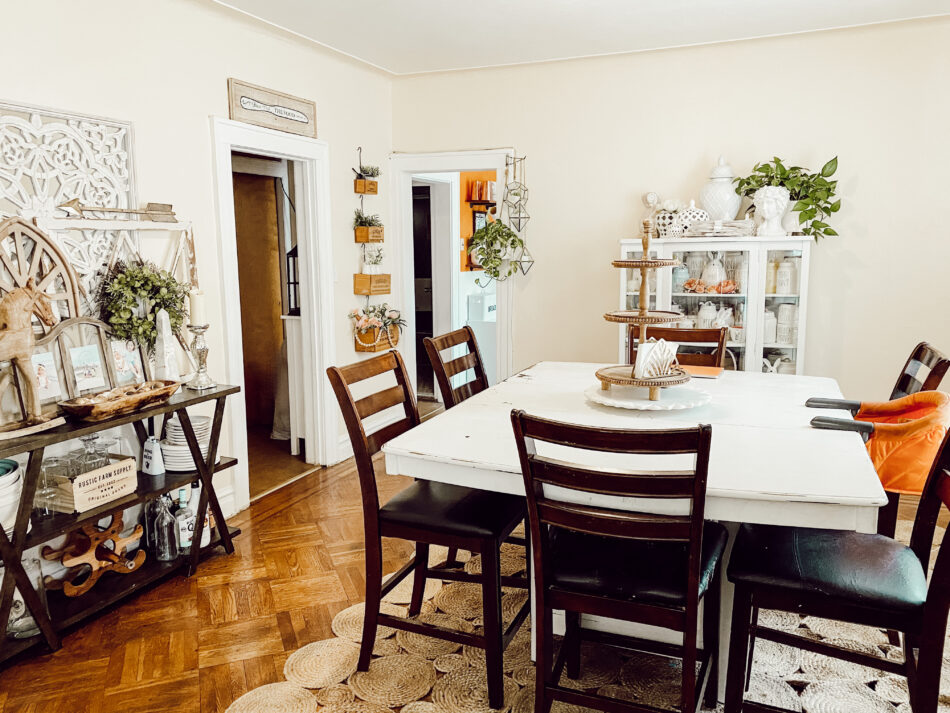 The same goes for area rugs. I see this a lot. You want to make sure your area rug fits nicely in your room. In my home, I like to buy area rugs that are 8×10 specifically because the space I'm in is big and I want it to fit my whole dining table and chairs on the rug even when they pull the chairs out. If I got a 5×7 it will be too small and my chairs would be on the hardwood floor when they are pulled out, so keep that in mind. The same goes for your living room. You want to have your couch front legs at least on the area rug.
Take Care of Your Items
This is something I try to do often. I am a big believer if you make sure to take care of your items at home not only will they last longer but they will look good longer. You don't want your couch cushions to get sunken in if you're constantly throwing yourself on the couch (my kids) or leaving stains on throw pillows. Life is busy, sometimes furniture gets torn, or the animals damage it, but just make sure to take care of it, clean it, or repair it. It will also help you avoid spending more money on buying new pieces to replace them.
Mix your Low End with your High End
One thing I love to do is to mix my low-end furniture with my high-end pieces. So for example, if I have Ikea bedroom furniture like a dresser, I will decorate it with some high-end knobs to change it up or decorate on top of it with some high-end pieces like a gifted vase that is pricier. My Couches may be cheap but my coffee table is high-end and elevates the space. Don't feel like you always have to buy expensive things to make your space look expensive. You can always enhance a low-end furniture piece with something else high-end. If you are buying high-end pieces, make sure to buy them on sale. You can find a lot of nice things in outlets as well.
Buy Bedding & Pillows that don't feel "Cheap"
If you're buying pillows try to buy them with a down feather that you can easily shape on your couch. Avoid Pillows that are stiff in shape and are filled with Polly fill. Make sure they have zippers that you can easily switch out the covers when a different season comes and you want to change your pillows. You wont have to spend a lot on new pillows instead you can buy inexpensive covers for your pillows.
I hope these tips give you an idea of how to spruce up your space and make it look and feel expensive without breaking your bank! If you have any other tips please share them in the comments below.