My Rae Dunn collection has grown so much throughout the years. I have collected so many pieces and over time I have also given away many pieces. With it being summer, I decided to give my hutch a makeover. I wanted to go with a more neutral hutch, just all my white pieces in one place. I have decorated my hutch a lot over the seasons, you can see here, here and here. So today I wanted to share some tips on how to decorate a Hutch.
Little by little I have been wanting to clear out some of my Rae Dunn collection. What?! Yea I know! It's honestly just a lot of stuff and I have not been feeling much joy with any of the new stuff that is coming out. That's not to say that I will stop collecting her stuff just yet, but I have definitely slowed down a lot. I originally fell in love with her all-white dishes, I loved how simple and beautiful they are and over time they have come out with many more color options. I personally don't need the other color options, I like my white dishes so if I see something I love, I will pick it up. For now, I have been purging a lot of my holiday and colored pieces and being very selective when adding new dishes to the collection. So while purging items, I decided to decorate my hutch with all of my white dishes. I love the clean look of all the white dishes together. I think I will be leaving it like this till the holidays.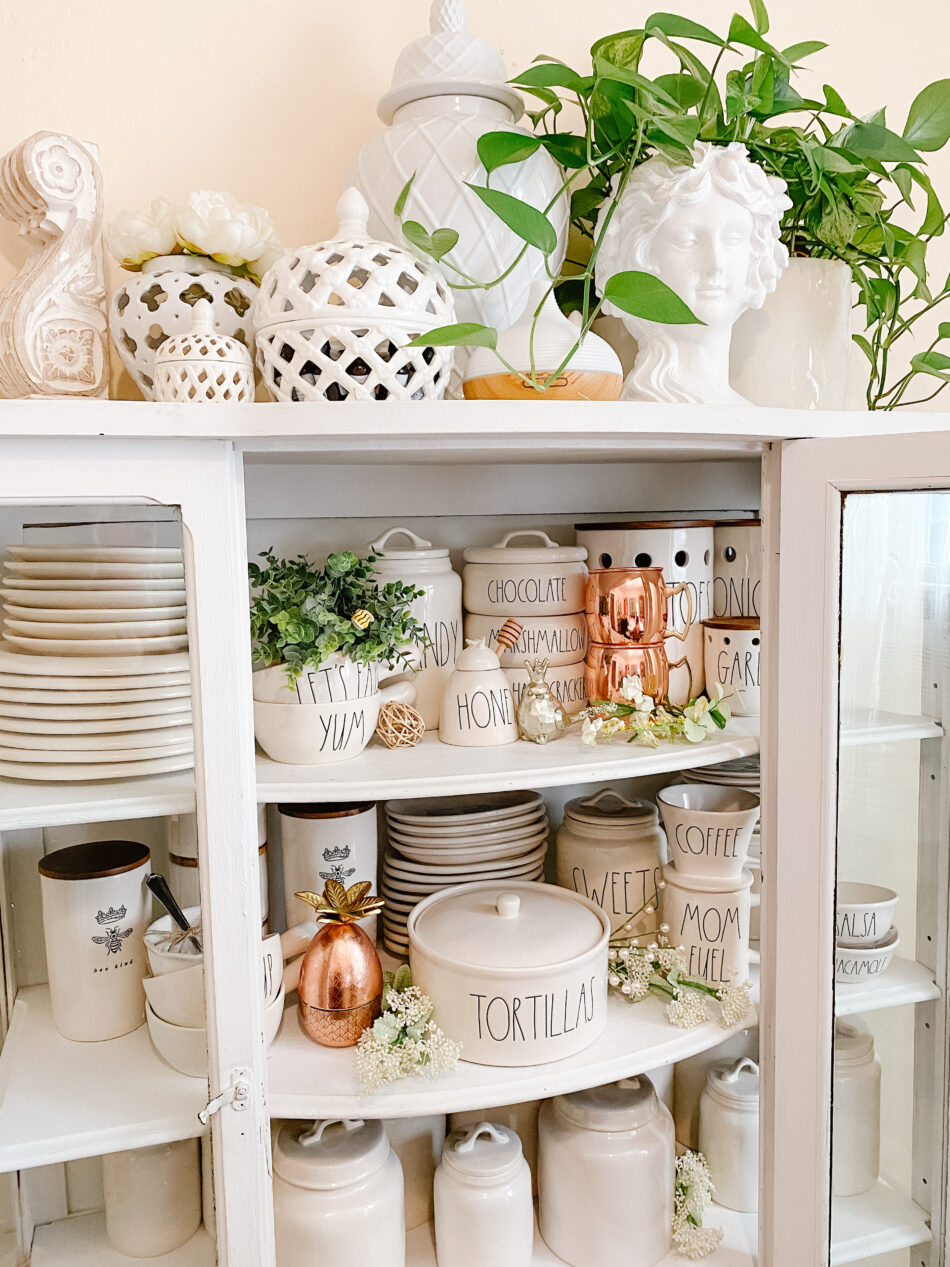 HOW I Decorate my hutch
So since I have a lot of pottery and I like the whole clustered/cluttered look, sometimes I have to figure out how to display them nicely. Here are some simple tips on how to display your pottery.
Stack Dishes: I usually will stack all like dishes together to give them height in the cabinet and display a pottery dish I want to be viewable on top or even in front. So all of my basic trays will stack underneath a teapot that I would like elevated and in view. This gives the option to add different heights in your cabinet without buying or adding risers. Speaking of risers, you can easily buy some cupcake stands or boxes to rise your pottery as well, I just like using what I already have.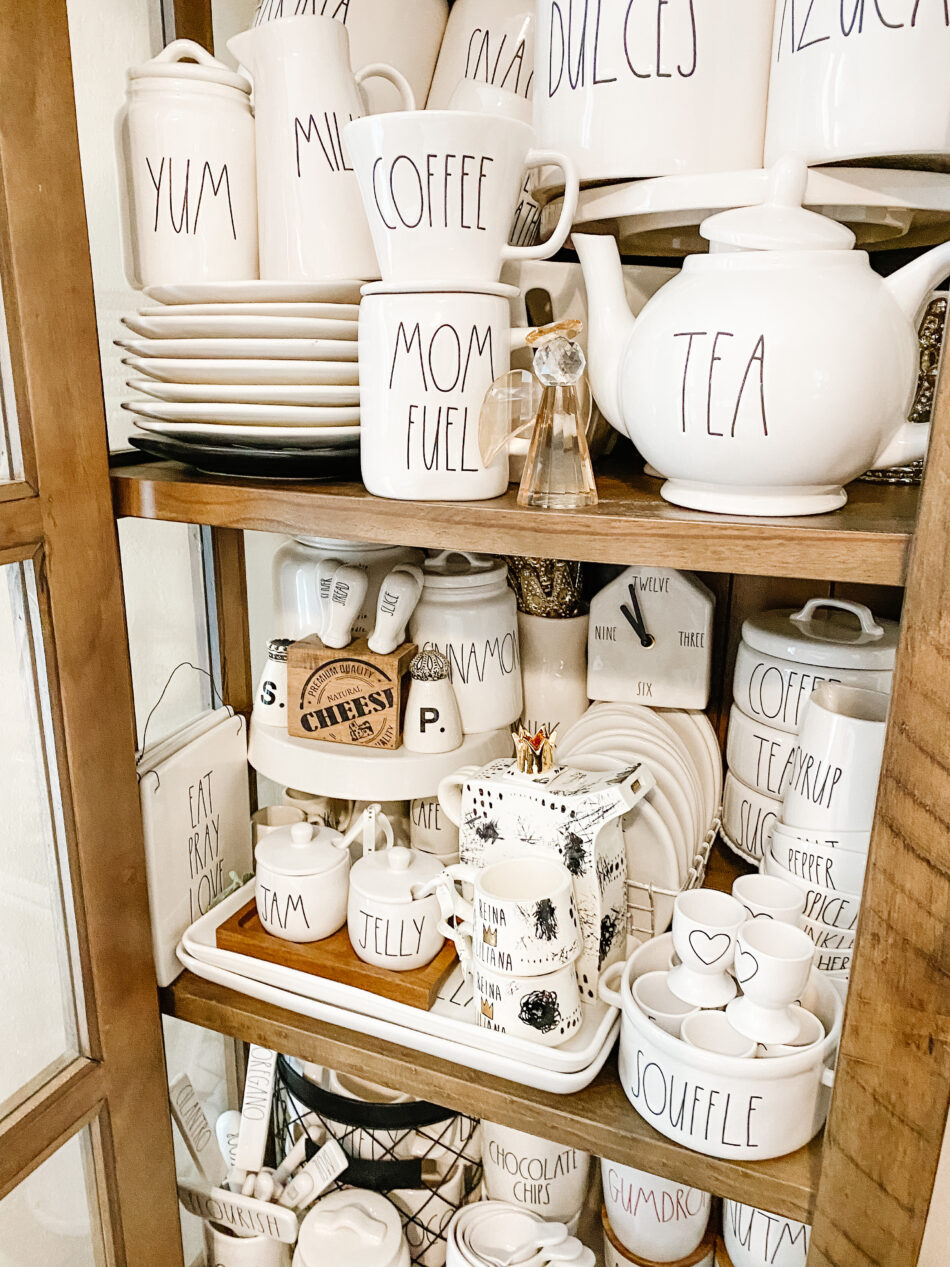 Use Baskets: For items like my mugs that are small but are oddly shaped I add them inside of baskets. It keeps it contained together if I am not displaying them in my cabinet. If I do display them then I will stack them on top of each other and display them that way.
Add Decorative Florals or Picks: I like to get picks and florals from my local hobby shop like hobby lobby or Michaels. I just love how simple and pretty it looks adding the picks on the plates and in canister corners. It dresses it up nicely and keeps it simple at the same time.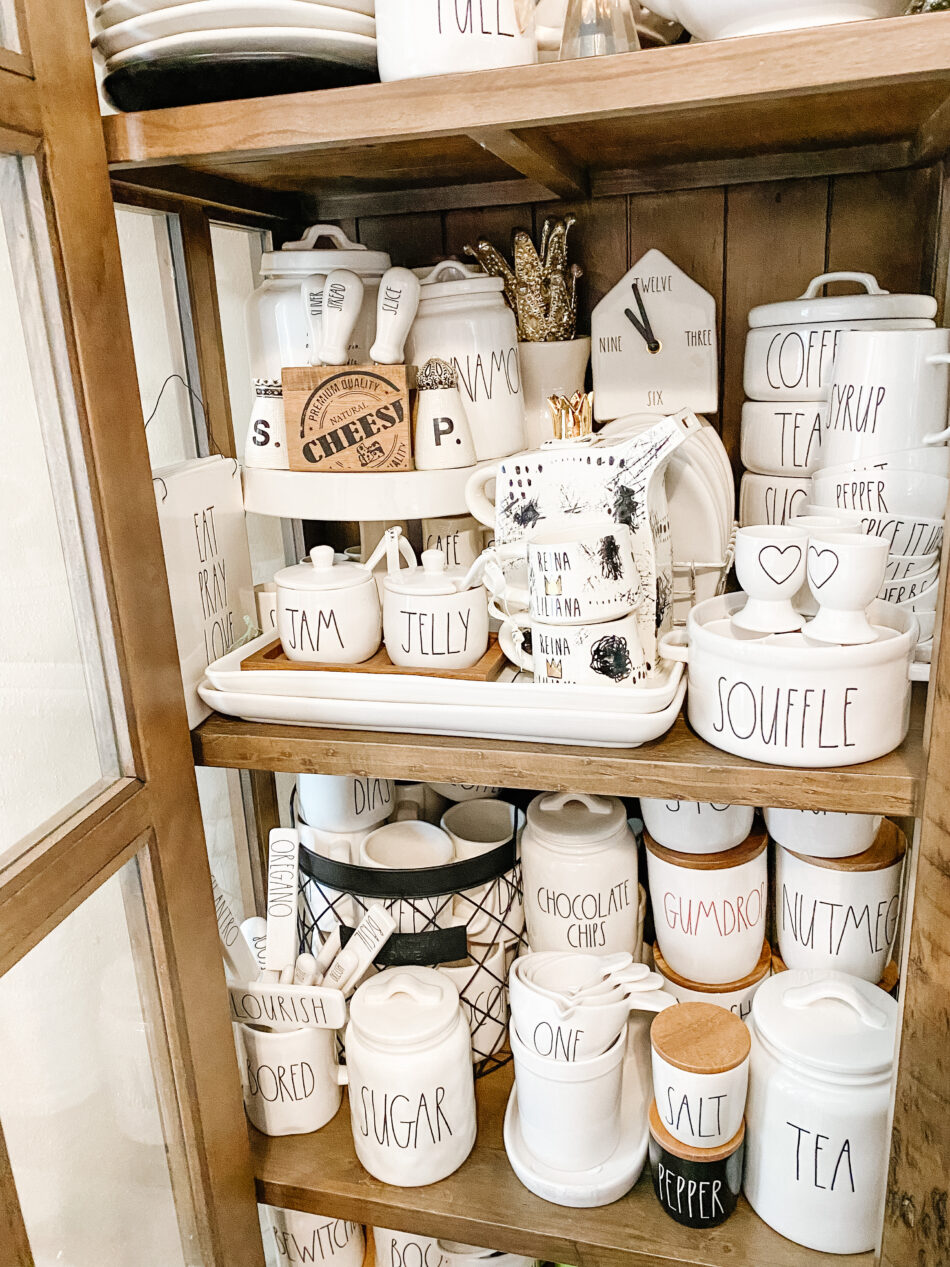 In this hutch, I decided to use cake plates to elevate my pottery. I used a lot of plates to elevate and even my baskets to hold my mugs. This isn't the neatest, but I like that look. I just love to see everything together ☺️.