This post may contain affiliate links, when you click a link I'll get a commission from it, at no extra cost to you.
Decorating for the Holidays can be very overwhelming. There are so many colorful and trendy Christmas decorations which can become very overwhelming when it comes to choosing and having a cohesive design. Some of us like to have everything match, some of us love the classic holiday look and some of us want themes! Here are 7 Practical Tips for Decorating for Christmas.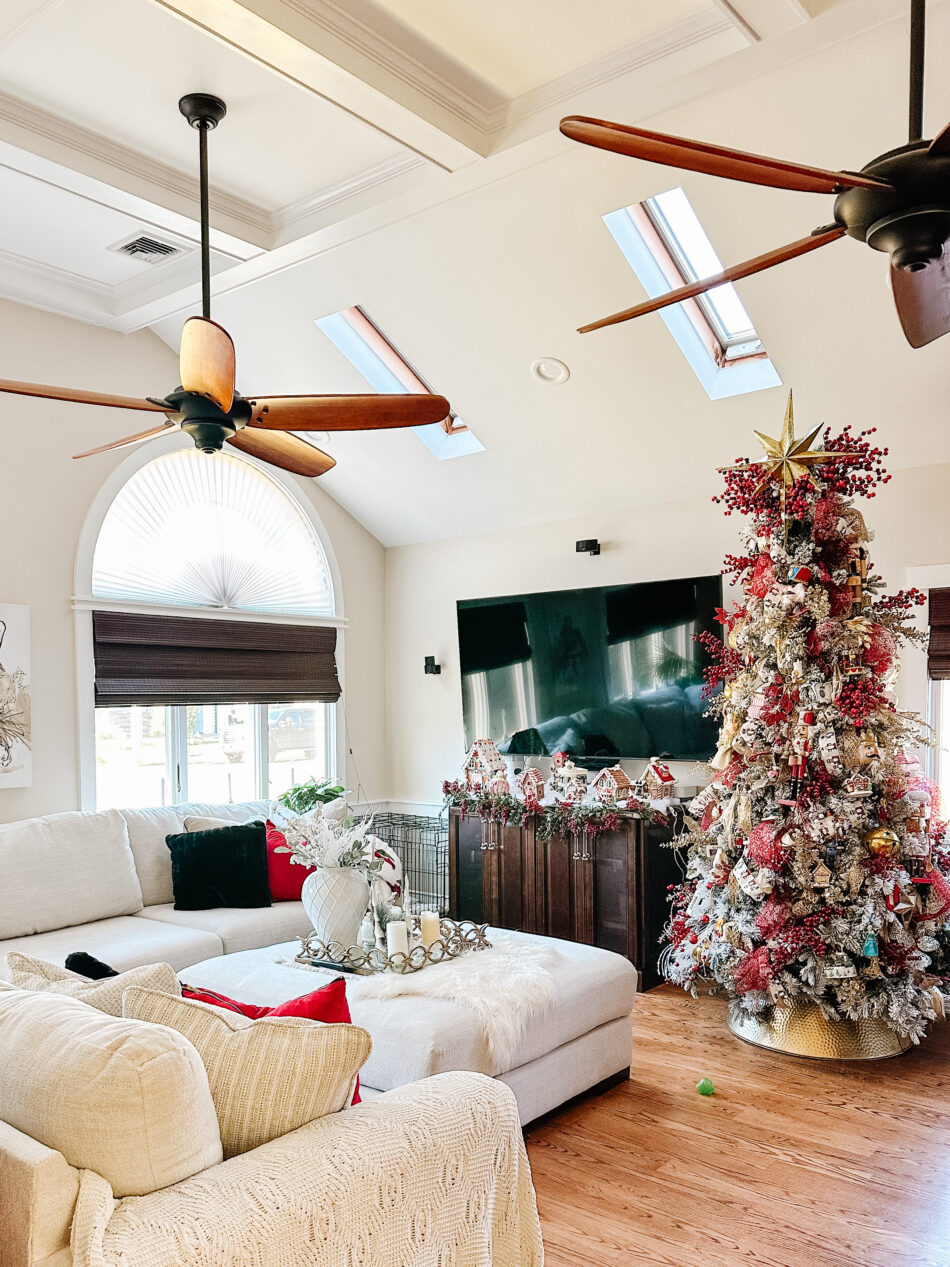 Stick to a Color Scheme
Choosing a perfect color scheme you will like to see throughout your home will help you choose better decor items and avoid you from overspending or buying things you don't need. Once you know your color scheme, you will know if the item will work well in your space or not. For example, I do not buy anything in chrome or silver finish because I know that I only love gold accents, especially for the Holidays. So just because I see a silver and white reindeer set that I love, I won't buy it because I know it doesn't go with the overall theme of my home. I will instead try to find a reindeer that goes with that theme.
Have Traditions
In my home, one of my yearly traditions is collecting a new hallmark ornament that relates to us that year. For example one year my kids were really into Coco and I made sure to buy the ornament from hallmark. Having these traditions will make it easier in deciding what you will decorate with because I know every year I decorate my tree with hallmark ornaments, so I will not buy different colored holiday ornaments. Instead, I will stick to a color scheme on my tree (usually white or gold with some hints of red) and then my ornaments do the talking because that's our tradition of decorating the tree with hallmarks. It's what we love and we don't overspend on new ornaments for a certain theme each year.
Change only the Ribbon or Picks
So each year since I do not buy new colored ball ornaments. I just change the ribbon color for the year. I will go after Christmas each year and stock up on a color scheme ribbon that I will like to use the following year. You can save up to 75% off on these ribbons, especially at Michaels, and have them ready to use for next year it will give your tree a different feel for next year instead of having to break the bank buying new ornaments, picks, and ribbon when they first come out in stores. You can also save on garland, wreaths, and other decor items instead of buying them when they are in season. A ton of my garland has come from last years clearance shelves.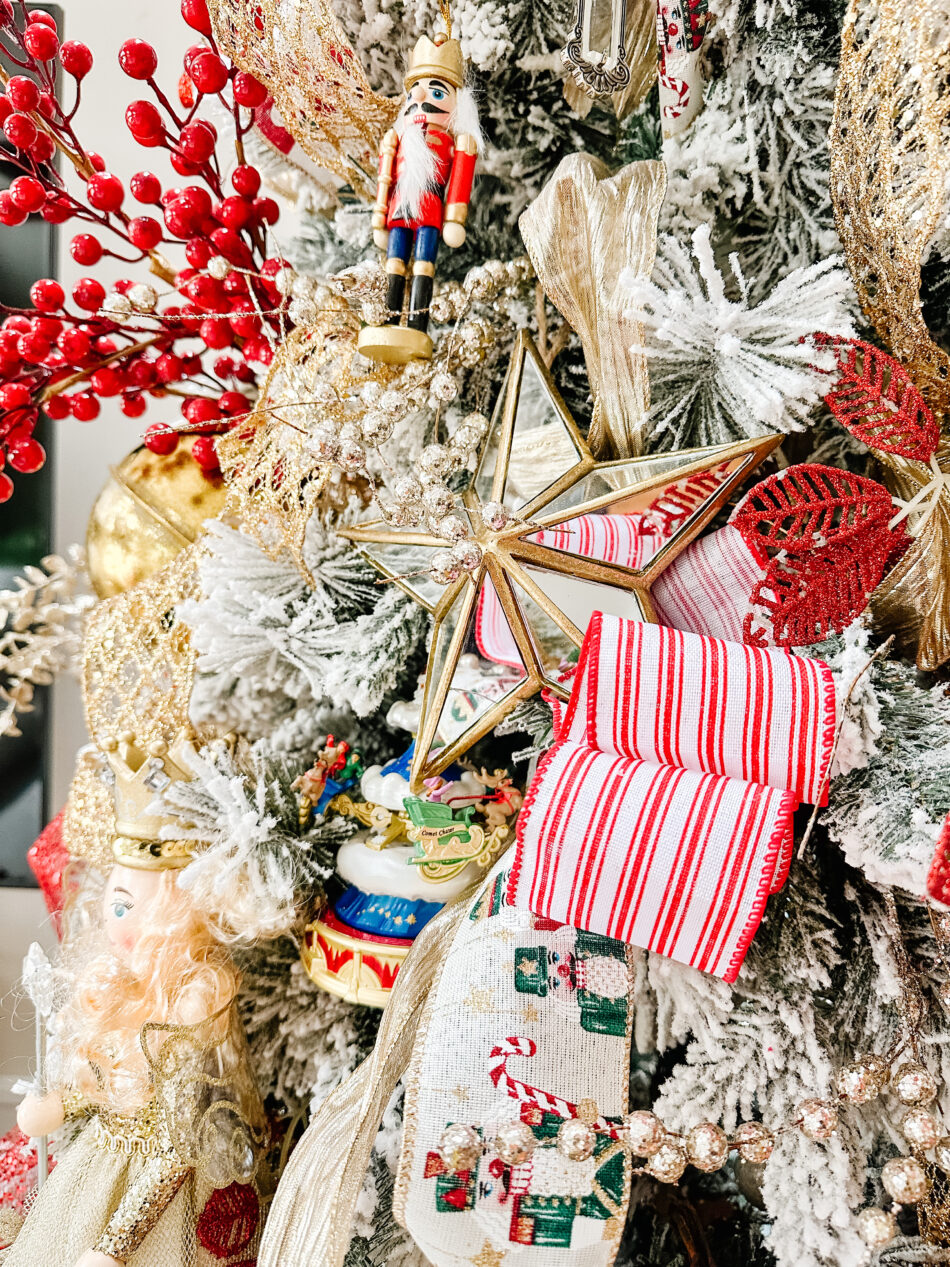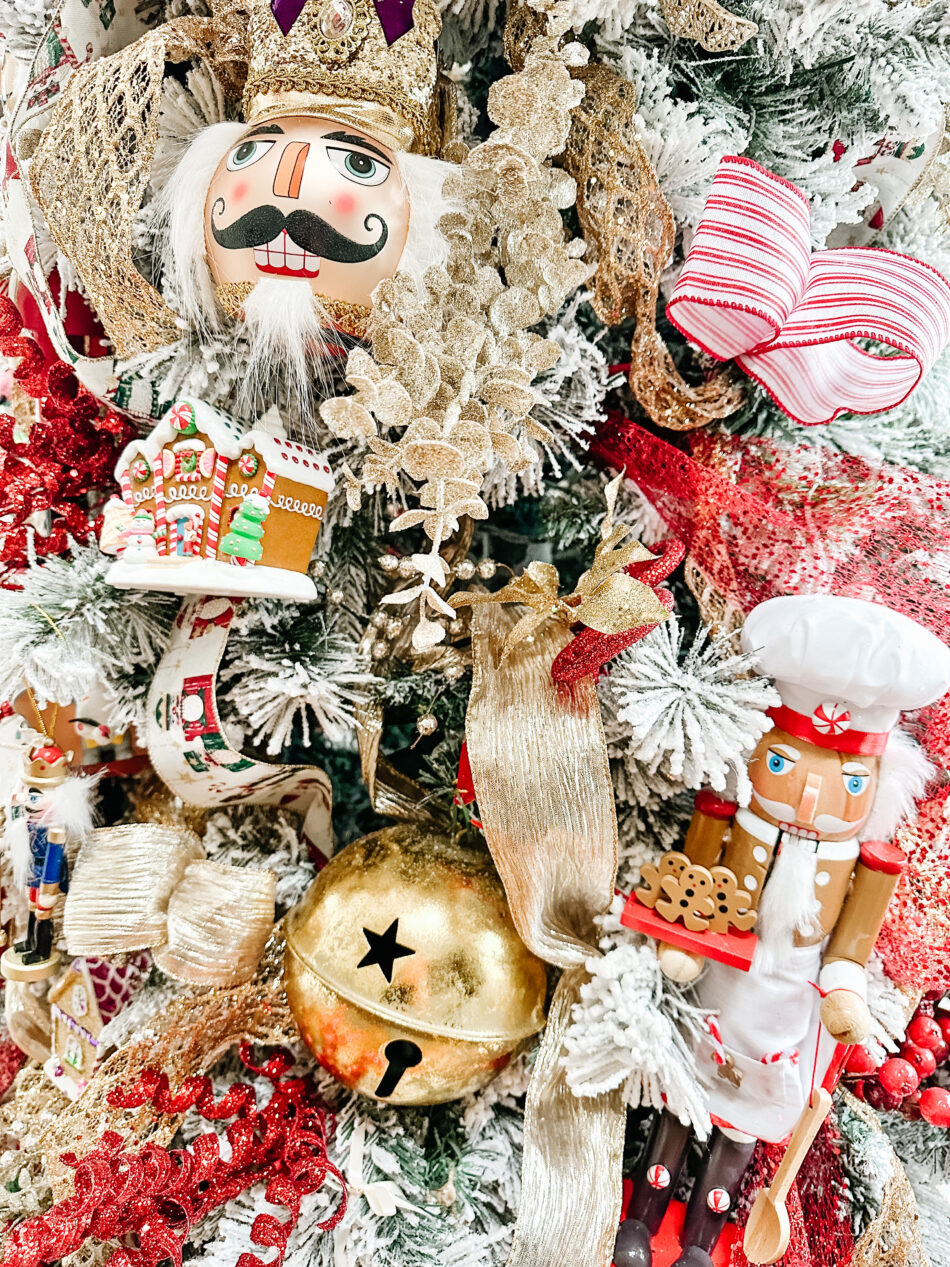 Purchase Slowly
I know sometimes getting into the Christmas spirit can cause you to want to go crazy buying everything you see. The one thing I have learned is to take your time collecting pieces you absolutely love. I have gone through phases where I buy things just cause I needed to fill that void. Don't do it! I have regretted a couple of purchases this way and end up just giving them away.
One thing to do is let's say you want a set of nutcrackers for your fireplace, don't buy the first cute nutcracker set thats colorful knowing you really love wood tones or gold tones. Instead, wait and see if you come across it or if you can possibly DIY it for example. Go to a thrift store, find some in a yard sale where you can spray paint or change to your style. Don't just buy it because you need a set of nutcrackers. Same with other Christmas decor, just buy slowly year after year and grow a great collection of things you absolutely love!
Save On Trends
Put your money towards something you know you will use over and over again. Invest in that expensive Christmas tree but pass on the trending items, instead, try to DIY those instead with things you can find in craft stores. I also avoid too many trends. I like to have a color scheme and stick to it, so when they come out with cool Christmas themes I really try to avoid going big with it and instead do one or two items myself and DIY it. Do not sleep on the Dollar Tree. I have found a lot of my ornaments and decor there. I even found amazing wrapping paper that I loved and even glassware. They have a huge selection of simple things that you can spruce up and practical things like glassware that you don't have to break the bank buying to entertain for the Holidays.
Invest in Quality Storage Bins
One of the best ways to keep me organized during the Holidays is to have everything organized in each bin. I am not searching all over for that Red Santa, I know that it is in the Red Décor Bin. Labeling them and getting them all during the sales is your best bet.
Go through your Stash
I have made this mistake so many times, hey I'm guilty! I literally would go buy the same thing when I already had a full stock of something already stored away in the bins and forgot about it. So it's always best to check your stash first before buying anything. Take it all out and see where you can use it, then if you still need something you can go buy it.
I hope these practical tips for decorating for christmas will help you get organized for next year or if you haven't started yet give you ideas for this year. What are some of your favorite things to do during the holidays that saves you money and time?